In 1819, Jacob Bromwell, a soldier of the War of 1812, started manufacturing kitchenware and household goods to pioneering families. As America's oldest housewares company, they produced the classic tin cup during the Civil War and they were used by both Union and Confederate soldiers.
For the past 200 years, Jacob Bromwell's company has maintained the tradition, authenticity and quality since day one. All goods are still made in the USA – at their factories in Indiana and Vermont.
We've been using Jacob Bromwell products for the past 7 years in our kitchen, starting with The Original Popcorn Popper (which are still made with the original equipment and dies from the late 1800's) and the Heritage Cookie Sheets.
Jacob Bromwell Pocket Knife Review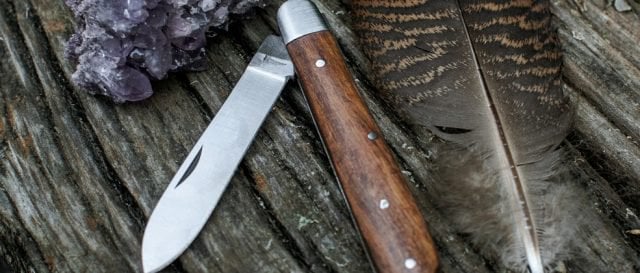 About the Jacob Bromwell pocket knife
If there's one thing every pioneer needed back in 1819, it was a quality made pocket knife that could hold up to any task around the homestead, from cutting rope to cutting up steak. Jacob Bromwell® is pleased to re-introduce our Traditional Pocket Knife, a classic American made knife that was a part of our product line nearly 200 years ago. Every Jacob Bromwell product is guaranteed for life!
We're loving the traditional pocket knife that includes a walnut wood handle 4 brass rivets on each side and a hand-sharpened carbon steel blade. The blade is 3″ long, the perfect size for everyday tasks at home, like breaking down boxes, cutting through rope, opening letters….all of which we did the first 3 hours of owning this gorgeous knife!
The walnut wood handle is smooth, warm and just feels so comfortable in the hand. At 2.6 ounces, it's lightweight enough to carry in your pocket or in your handbag. I've been carrying around a small backpack for my everyday carry, and keep the Jacob Bromwell Pocket Knife in a small zippered compartment.
Here's what I love about Jacob Bromwell
Made in the USA. This Jacob Bromwell pocket knife is made in their Indiana factory. There's history behind each product and a real people hand-making the product you purchase. I know the term "artisan crafted" has become more like a gimmicky marking term….Jacob Bromwell is the true definition of American artisanship.
Some of my favorite Jacob Bromwell products:
These are products we use every single week.
Jacob Bromwell Pocket Knife Giveaway