This is an Anolon Advanced Tri Ply 10-Piece Cookware Set Review. featuring both PROs and CONs.
Anolon Advanced Tri Ply 10-Piece Cookware Set Review
We tested the Anolon Advanced Tri-Ply Cookware set (10 pieces) for 2 weeks.
Set includes:
8.5" skillet
10.25" skillet
1.5-qt. covered saucepan
2-qt. covered saucepan
8-qt. covered stockpot
3-qt. covered sauté pan
From Anolon "Make the most of fresh seasonal ingredients in a variety of dishes with the professional-quality performance of the Anolon Advanced Tri-Ply Stainless Steel 10-Piece Cookware Set. Create creamy stone-ground grits and rice pilaf with golden raisins in the saucepans, or sear grass-fed lamb chops and sautéed vegetables in the skillets. The cookware's durable three-ply construction features aluminum cores between layers of stainless steel for excellent, efficient heat distribution all the way up the sides of the pans. This cookware is suitable for use on all stovetops, including induction, and the polished, sophisticated stainless steel exteriors are easy to clean.
The sleek handles are comfortable, stylish and dual riveted for strength, and the deep-seated, shatter resistant glass lids seal in heat and moisture for a clean, professional look. The cookware is dishwasher safe for convenient cleanup and oven safe to 400°F, and coordinates well with all the pots and pans from the Anolon Advanced Tri-Ply Clad Stainless Steel collection."
The set comes in both Onyx and Bronze handles.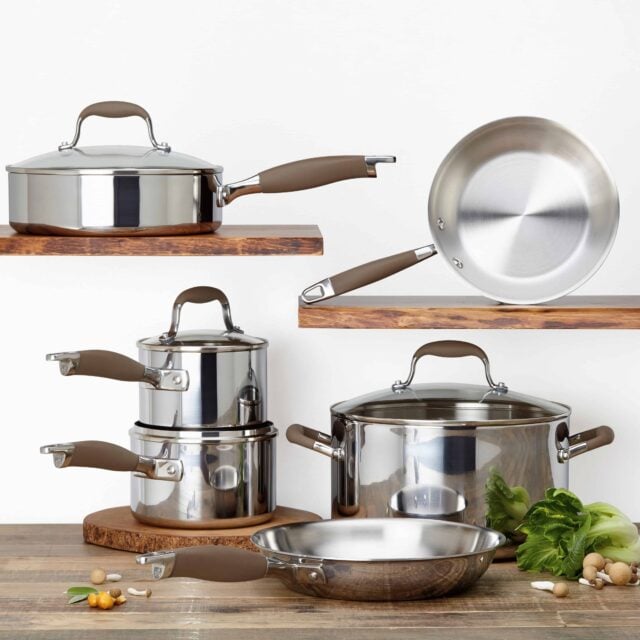 Super comfortable handles
PRO: The first thing you'll notice is how comfortable the handles are. The "Sure Grip" handles are ergonomic, wide and are designed to be more "grippy." The coating on the handles also allows you to handle the cookware without bulky oven mitts or kitchen towel.
This cookware is a nice complement to Anolon's Sure Grip Knife Set that we love so much (actually, my MOM loves so much….she stole my set! LOL)
PRO: The handles of the pans are longer than most other brands, which means the pan is easy to lift and maneuver, even when the pan is heavy with food. There are no "helper" handles, but I felt that it wasn't needed because of the design of the Sure Grip handles.
Big, Fat Lid Handles
PRO: The lids are clear, tempered glass, allowing you to monitor cooking progress without having to lift the lid.
PRO: The lid handles of the Anolon Advanced Tri-Ply cookware set is also coated with the Sure Grip and big enough that you can securely lift the handle, even with bulky oven mitts.
Advanced Tri Ply Stainless Steel
Tri-Ply cookware means there are 3 layers: 2 stainless steel layers with an aluminum core sandwiched in between.
Stainless steel is non-reactive, strong, resists scratching and denting, and also retains heat well. However, the material tends to take a long time to heat up, and also doesn't allow the heat to transfer well.
Aluminum, on the other hand is quick to heat, distributes heat well, but is not strong (think aluminum cans and tin foil). Plus, aluminum reacts to acidic foods, like tomato.
Cookware manufacturers discovered that sandwiching the aluminum between sheets of stainless steel gives the cook the best of both worlds.
PRO: Suitable for use on all heat sources, including induction.
Sizes of the Cookware
Love the 8 quart stockpot. It's a good size for soups, stews, boiling pasta. Not too big, not too small, and light enough to handle even with full of hot water. The big handles help with easy lifting (yup, I really love those handles).
CON: The 1.5-qt. covered saucepan is so small. Good for making gravy for 4 people, but too small to make a single serving of instant ramen.
PRO: The 10.5″ skillet is a nice size. Egg cooked evenly, and pounded chicken breast browned evenly.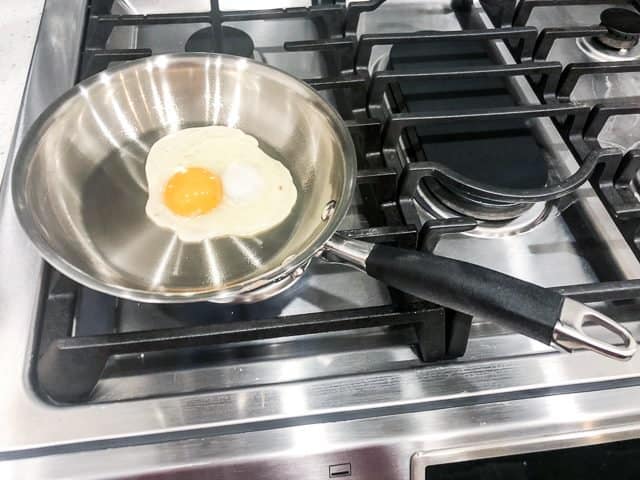 You have to remember the set I am testing is NOT nonstick. When making eggs, I made sure the pan heated up nice and hot before adding oil. Then the oil has to heat up before you add egg. Otherwise, your egg (or whatever food you are cooking will stick.
PRO: The 3 quart sauté pan also browned my vegetables evenly. No hot spots.
CON: The sauté pan is quite a bit smaller than the one I like to use. It is a good size for cooking food for 2-4 people. I prefer something just a little larger, so that I can fit 6 chicken breasts comfortably. I'm browning 4 short ribs in the pan.
PRO: Cookware is oven safe up to 400F, though the Tri-Ply stainless steel without the comfy handles are 500F oven safe. Personally, I don't use pans in oven above 400F. If I'm looking for screaming hot oven use, I'll grab my cast iron skillet and sauté pan instead of stainless steel.
PRO: Dishwasher safe. Though I never recommend washing quality cookware in the dishwasher.
PRO: The Anolon Advanced Tri Ply Stainless Steel cookware comes in both black and onyx.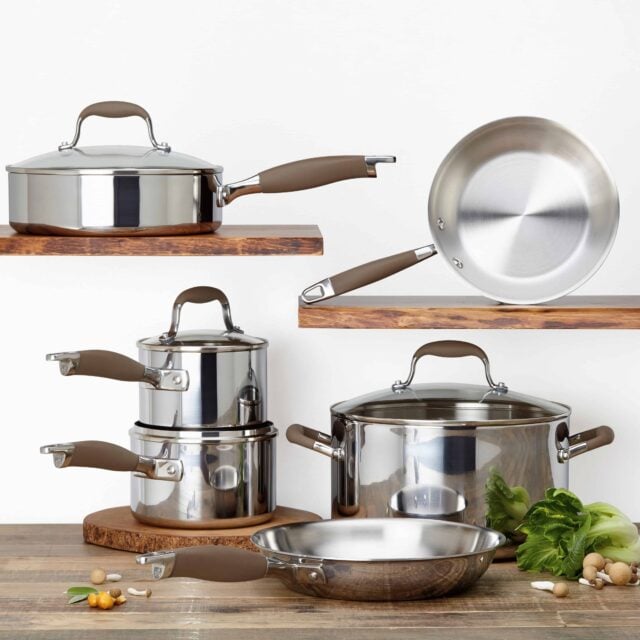 Good Housekeeping likes this set as well (they tested the Anolon Advanced Tri Ply collection, which doesn't have the SureGrip handles), which we also reviewed in depth). I like this set for everyday family cooking, especially because of the handles and how easy the cookware was to use. Clean up is same as all my other stainless steel cookware – scrub with Barkeeper's Friend and scrubby side of sponge. I never had to use an oven mitt with the cookware while it was on the stove. Those who entertain often might look for a larger sauté pan to add to this collection.
Also, I was reading some reviews from customers on Amazon and other retailers. If you are looking for non-stick cookware, try the Anolon Advanced Nonstick cookware (same nice handles).
Anolon Advanced Tri Ply Cookware Review & Giveaway
Giving away one set, color of your choice.