Cuisinart Convection Bread Maker Review & Giveaway
This Cuisinart Convection Bread Machine Review will go over both PROs and CONs of this machine. We baked a total of 8 loaves of bread for this review (and gained 5 pounds in the process).
Cuisinart Convection Bread Maker Review
Both my Mom and I bake a lot of bread in our respective bread machines. It only takes 5 minutes of hands-on work, and the machine does the rest. We thoroughly tested the Cuisinart CBK-200 2-Pound Convection Bread Maker.
First, the stats:
Convection fan for more even baking, consistent temperature and faster times.
Bakes 3 different sizes: 1 pound, 1.5 and 2 pound loaves
16 pre-set menu options (including low-carb, wheat bread, gluten-free), 3 different crust options
List price $235, but Amazon.com sells it for $99 at time of publish. Check Amazon's current prices. They consistently had the lowest prices for this bread machine.
Cuisinart Bread Maker PROs
The Cuisinart bread machine's design is utilitarian – boxy, brushed stainless steel with chrome detailing. It's a lot lighter than bread machines that I've had in the past, which makes it easy to take in and out of my pantry.
It's also a lot shorter than my old Panasonic bread machine, which is a great thing – I finally can slide the bread machine right under the shelf on the floor of my pantry. My old machine was taller than it was wide, so I'd have to tape the lid shut, turn it to its side and then slide into pantry.
Removeable Lid that makes it so much easier to clean!!! While baking bread the little window fogs up…and sometimes, the bread rises so high it does touch the window.
Handles on the sides of the machine makes it easy to move, lift, store. I've had 2 breadmakers in past that had no side handles, and the only way you could lift it is by hugging the machine and lifting with arms.
The loaf pan fits in and locks into place very easily. I've had bread machines in past where I had to kinda jiggle and turn to lock.
There's a little window up top so you can see what your bread is doing without opening the lid.

Cuisinart Bread Maker CONs
The control panel has too many too many words with such small font! I have pretty good vision and even I had to squint to read. Definitely need your reading glasses to figure out the settings. The display LED is small too.
The control panel is really confusing – the buttons are spaced funny, and the buttons are all different sizes and some buttons are raised, som flush. There's no rhyme or reason with how this panel was designed.
But, does it work?
Mom made a Cinnamon Loaf Bread, it tasted great, but the swirls of cinnamon didn't really look like the first photo in the review. It could just be user error. The bread tasted great, she said.
Mom's PROs: Lots of recipes and ideas from the included recipe booklet.
Mom's CONS: Because of the confusing control panel, it took her a long time to understand how to operate the machine.
My first project was a honey-wheat loaf.
I peeked in the machine a few times to take photos for you.
This is Cuisinart bread maker mixing and beginning to knead the dough. See that glob on the bottom right side of pan? It's awfully up high in the pan. How is the ball of dough going to reach it and clear it from the sides?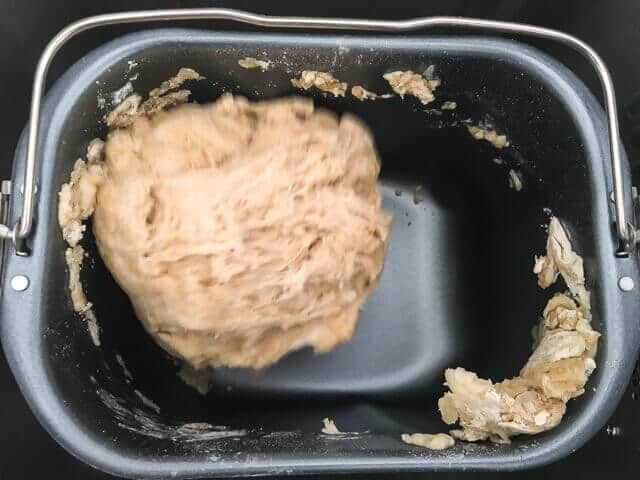 It took every ounce of willpower not to just stick my finger in there and poke it in. #ultraOCD
I was pretty worried that the glob wouldn't make it down to join its brothers and sisters. But I held strong and closed the lid and stepped away. A few minutes later, I came back and was very pleased that most of the glob had disappeared!
I peeked in a little later and MOST of the bits of dough were incorporated.
Here's the bread baking:
Done.
Why does my bread look like ass-cheeks?
Not sure.
PROs: The mixer paddle is powerful enough to knead very well, and there's enough wobble, power and rotation to pick up stray globs of flour on the sides. The bread rose beautifully, and because of the convection fan, the bread was perfectly and evenly baked. The flavor of the honey wheat bread is fantastic, the flours all mixed well and the texture is even throughout the bread.
I tested this bread machine with just the pain white bread setting….absolutely heavenly.
CONs: Why did my bread have a butt-crack?
The most difficult bread of all….
I always have the most trouble with baking bread that's all whole wheat with nuts, dried fruit, grains. You know, the kind that you find in the healthy foods section, the loaf that's so dense and heavy it will function well as a doorstop.
I don't even like to eat this kind of bread…but all in the name of testing, for you, my dear reader.
I added in walnuts, oats, millet and rum-soaked cranberries. Yeah, cranberries that we've been soaking in Jamaican Rum for the past 4 months!!! Good stuff. In the beginning of the mixing and kneading phase, again, I was concerned that a bunch of stray dough and cranberries were stuck at the top, out of reach of the growing ball of dough.
PROs: The Cuisinart Convection Bread Maker mixed the dough with all those mix-ins!
CONS: The machine doesn't have an automated way to add mix-ins. Our old bread machine had a little compartment that would drop in the mix-ins at the correct time so that you didn't have to wait for the beep. So, if I wanted to make a bread with nuts and fruit, I'd have to stick around and wait for the beep to manually add it in. If you miss the beep, you're out of luck. The machine will continue and bake.
Final thoughts
This machine is a bargain at less than $99 (as of time of publishing). Amazon currently has the lowest price. Williams Sonoma sells it for $149.
I like the size, shape and…YAY handles! It makes fantastic sandwich breads (it's so hard to go back to store-bought sandwich breads). I love that it cooks with convection, which makes for more even and fast baking. Also because of the convection, the crust is beautifully golden brown.
While the control panel is a little inconsistent and confusing, it's not a deal breaker for me, personally. I think those with poor eyesight find it difficult to read the pre-sets.
Cuisinart also has a CBK-100 model that does NOT include convection baking, and is cheaper by about $10. My advice is to spend the extra $10 and get the CBK-200.
Thanks for supporting Steamy Kitchen!
Even if you don't buy this Cuisinart CBK-200 Bread Maker from Amazon, just starting your Amazon shopping from our affiliate links really helps us a lot! Thank you 🙂
Cuisinart Convection Bread Maker Giveaway
---
Giveaway Ends: 2018-09-24
Number of Prizes Available: 1
Max Entries Per Day: 1
** Please add hello@steamykitchen.com to your contacts to help prevent email notifications from going into spam folders.
Never miss another Steamy Kitchen Giveaway!
Subscribe to our Giveaway Notifications
to keep up to date on all of our giveaways! We will even throw in a special gift when you confirm your subscription!
List of
Past Winners.
DISCLAIMER & OFFICIAL RULES: The giveaway product is provided by the sponsor of the giveaway and will be shipped from the sponsor directly. No purchase necessary to enter or win. Giveaway is open to people who are 18 years of age at time of entry and open to people worldwide. Steamy Kitchen and its sponsors only ship physical prizes to United States addresses. However, Steamy Kitchen reserves the right to provide an Amazon.com or Amazon.ca gift card for the value of the prize (at time of publishing) in lieu of shipping physical product due to shipping costs and logistics, especially for our international winners. Steamy Kitchen assumes no responsibility for late or misdirected entries due to SPAM, technological, or e-mail filtering issues or for prizes lost in transit. Winner will be notified by email, and must respond within 5 business days, otherwise winner will forfeit the prize and another winner may be drawn. For this giveaway, entrants can enter the designated number of times per e-mail address per day. The use of any system, robot, agent, or software to automatically submit entries in connection with this Giveaway is prohibited. Winners of giveaways are published on Steamy Kitchen, and winner's name and city/state/country are announced in Steamy Kitchen email newsletters. See rest of the Official Giveaway Rules.