Fall is here, and with it comes the vibrant colors, cozy layers, and – you guessed it – comfort food. But before you dive into the heavy, carb-loaded meals that often define the season, consider giving your taste buds a fresh spin. Introducing five healthful, flavorful, and downright delectable Buddha Bowls that'll keep you nourished from the first chill to the last fallen leaf. From roasted cauliflower wonders with dill dressing to zesty masala turkey delights with a side of mango chutney, we're turning autumn eats on its head. So grab your fork, it's time to fall in love with these bowls!
Roasted Cauliflower Buddha Bowl Recipe with Dill Dressing
Where earthy roasted cauliflower meets the zesty tang of dill dressing, this bowl is a must-have this fall. Think of thick slices of cauliflower, roasted to perfection and layered over fluffy Moroccan couscous with the surprising pop of lemon zest. But wait, there's more – a generous serving of succulent fish fillets nestles in next, offering a boost of protein that keeps things satisfying. Drizzle that creamy, dill-infused yogurt dressing over the top, and let's not forget that crunchy almond finish. This bowl isn't just a meal; it's a whole autumn mood in edible form. Prepare to go back for seconds, or maybe even thirds!
Ready to give it a try? You can find this recipe here.
Rotisserie Chicken Buddha Bowl with Sweet Pomegranate Sauce
Picture this: a hearty base of perfectly cooked quinoa, crowned with tender pieces of store-bought rotisserie chicken (because who has the time on a weeknight?), fresh, crunchy broccoli florets, sprouts, and a generous sprinkle of shredded carrots. Wait, we're not done yet! Creamy slices of avocado join the party, and just when you thought things couldn't get any better, we top it all off with a luxurious drizzle of sweet pomegranate sauce. Let's get fancy and throw in a sprinkle of nuts and those glistening pomegranate seeds for a touch of autumn-inspired crunch. This bowl is not just a feast for the eyes, but a warm, comforting embrace for the soul. Dive in and enjoy the flavors of the season.
Hungry already? You can find this delightful recipe here.
Rainbow Buddha Bowl Recipe with Tahini-Lemon Dressing
Here's the thing – as the autumn leaves flutter down, you don't have to leave all the vibrant colors behind. In fact, with this bowl, we're giving you a literal rainbow on a plate. Imagine a base of nutty freekeh – a grain that's as fun to say as it is to eat. Now top that with a kaleidoscope of veggies: gem lettuce, sweet potatoes with that golden glow, peppery radish slices, regal red cabbage, and maybe a pop of red with some fresh tomatoes. But what's a rainbow without a pot of gold? Enter the crispy tofu (or falafel, or halloumi cheese if you're feeling extra fancy). Let's not forget the liquid sunshine – a tangy, creamy tahini-lemon vinaigrette that's just the zing you need for these chilly days. And for the final sprinkle? Crunchy roasted chickpeas that bring the whole dish to life. This isn't just a meal, it's a vibrant food experience.
Ready to eat this spectrum of autumn hues? Find this colorful recipe here.
Masala Turkey Buddha Bowl with 10-Minute Mango & Golden Raisin Chutney
Alright, before you scroll past thinking "turkey is just for Thanksgiving", hear me out. We're giving the humble turkey a total makeover, and honestly, it's about time. This bowl begins with turkey chunks generously bathed in a store-bought Indian Masala simmer sauce. Just a quick toss and sizzle in the skillet, and you've got turkey that is warm, browned, and bursting with spicy goodness. The base? Fluffy basmati rice – the only rice that can keep up with this turkey's attitude. Roasted veggies slide in for some earthy comfort, but the real star here (other than the turkey, of course) is that Mango & Golden Raisin Chutney. It's sweet, tangy, and ready in 10 minutes. No, I'm not kidding. Finish with a sprinkle of crunchy roasted chickpeas, and there you have it: a bowl that takes turkey from holiday table to everyday glam.
Ready to shake up your turkey game? Check out this flavor-packed recipe here.
Rice Noodle Buddha Bowl with Vietnamese Dressing Recipe
As the leaves turn amber, you might find yourself yearning for something light yet satiating. This Rice Noodle Buddha Bowl is it. Beginning with delicate rice vermicelli noodles, they act as a gentle base for the aromatic symphony to come. The dance of flavors starts with the beef – marinated in a tantalizing mix of lemongrass, shallot, garlic, and fish sauce, ensuring each strip of flank steak is a bite of pure joy. Then, there's the crunch of fresh veggies like carrots and cucumber, harmonizing with aromatic herbs like mint and Thai basil. The Vietnamese dressing, a zesty blend of lime juice, fish sauce, and a hint of sweetness, ties this bowl together, making every bite a journey of textures and flavors. And just when you thought it couldn't get any better, a sprinkle of fried shallots or crushed peanuts adds that delightful final crunch.
Intrigued? Dive into the full recipe here.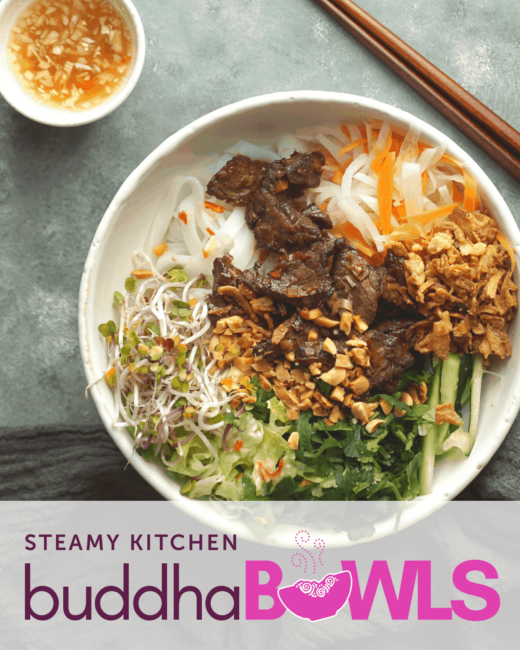 Fall Ingredient Buddha Bowl Basics To Keep On Hand:
Fall, with its cascade of colors and crisp air, brings a bounty of ingredients that can elevate your Buddha Bowl game. Prepping and having some basic ingredients on hand can make assembling these bowls quick, effortless, and delicious. Here are some autumn-inspired staples to consider:
Roasted Root Vegetables: Toss your favorite root vegetables like sweet potatoes, beets, carrots, and parsnips in olive oil, salt, and a sprinkle of rosemary. Roast them until they're caramelized and tender. They store well and can be reheated throughout the week.
Sautéed Greens: As the temperatures drop, greens like kale, collard, and Swiss chard come into their prime. Sauté them with garlic and a splash of balsamic vinegar for a tangy touch.
Spiced Quinoa: Boost your quinoa with fall flavors. Cook it in vegetable broth, and mix in some toasted pecans, cranberries, and a sprinkle of cinnamon and nutmeg.
Pumpkin Hummus: Blend cooked pumpkin, chickpeas, tahini, garlic, olive oil, and a pinch of smoked paprika for a fall twist on a classic spread.
Apple Cider Vinaigrette: Combine apple cider vinegar, Dijon mustard, olive oil, maple syrup, and a pinch of salt. Shake well, and you have a dressing that screams autumn!
Cranberry Almond Topping: Toast some almonds and mix with dried cranberries. This crunchy topping adds a sweet and nutty contrast to your bowls.
Herbed Lentils: Simmer green or brown lentils with bay leaves, thyme, and a diced onion. They're protein-packed and soak up flavors beautifully.
Caramelized Onions: Slowly cook sliced onions until they're deeply browned and sweet. They can transform any bowl with their rich flavor.
Autumn Herb Pesto: Blend together parsley, sage, roasted garlic, pine nuts, Parmesan cheese, olive oil, and a squeeze of lemon. This herbaceous spread can elevate any bowl.
Pickled Red Cabbage: For a zesty crunch, pickle red cabbage slices in a mix of apple cider vinegar, salt, sugar, and caraway seeds.
Having these ingredients prepped and stored means that whenever hunger strikes, you're just minutes away from a hearty, healthful, and seasonally inspired Buddha Bowl. Embrace the flavors of fall and enjoy the warmth and comfort they bring to every meal.
More Buddha Bowl Essential Recipes: