When it comes to Thanksgiving, it often seems like the entire culinary world is focused on grand family feasts – oversized tables, a battalion of chairs, and turkeys that could rival those in fantasy films. However, not everyone is gearing up for a large gathering. For those of us who relish the idea of an intimate, cozy celebration with just a partner, a close family member, or a dear friend, there's something uniquely charming about it. This year, let's dive into the world of Thanksgiving for two. Thanksgiving isn't solely about the crowd; it's a time for gratitude, even when shared between just two souls. In this blog, we'll explore Thanksgiving For Two, offer delightful Thanksgiving menu ideas for two people or less, and provide inspiration for those planning small Thanksgiving meals. Check out what's on the menu below.
The Art of Downsizing: Making Small Seem Big
Choosing to celebrate with just two plates at the table isn't merely an alternative, it's a whole mood. And trust me, the benefits are bountiful:
Wallet-Friendly: Ever noticed how those shopping bills skyrocket in November? By focusing on quality over quantity, you're not just saving dollars, you're investing in a richer experience.
Less is More: We've all been there—leftovers that last until Christmas. But when you're cooking for two, you can kiss that surplus of food waste goodbye.
A Tailored Experience: One of the joys of a smaller meal is customization. Want a little extra rosemary in that dish? Or perhaps a tad less sugar in your pie? When you're cooking for two, it's easier to cater to individual tastes.
Now, the how-to of downsizing: It may seem like a challenge to take a recipe meant for eight and make it just for two, but it's easier than you think.
Halve, and Then Halve Again: Start by halving your recipe, then assess if it's still too much. Often, especially for side dishes, halving once more does the trick.
Choose Smaller Cuts: Instead of a turkey, opt for a Cornish hen. Instead of a large fish, a nice fillet. This way, you still have the centerpiece without the expanse.
Use Smaller Cookware: A smaller baking dish or skillet can make all the difference. It ensures your portions look hearty and generous, not lost in a vast pan.
In the spirit of downsizing, here are some delicious recipes for you and you plus one this Thanksgiving season…
Starter Options
Lebanese Roasted Stuffed Onions
You know that feeling when you stumble upon a dish that's both familiar and novel at the same time? Enter our Lebanese Roasted Stuffed Onions. A delightful whirlwind of flavors, these onions are meticulously roasted and then generously stuffed, with a subtle sweetness and aroma that could very well become the talk of your evening. Whether you're looking for a starter that's a little adventurous or just something comforting, this one ticks all the boxes.
Take a culinary journey without leaving your kitchen and find the recipe here.
Chanterelle, Bacon, and Plum Salad with Blue Cheese
If there's one starter that screams autumn, it's the Chanterelle, Bacon, and Plum Salad. Imagine this: The earthy, buttery flavors of chanterelle mushrooms, harmonizing with the sweet tartness of plums and the rich, savory notes of bacon – all crowned with the tang of blue cheese. Every bite is a dance of textures and flavors, making this salad the perfect introduction to your Thanksgiving dinner.
Elegance meets comfort in this plateful of goodness. Find the recipe here.
Pasta Nests – with a bite of Thanksgiving!
These aren't your average spaghetti dinners – think of golden, crispy nests made from delicate angel hair pasta or thin spaghetti. The secret behind their delightful texture and flavor? A harmonious blend of soft silken tofu, rich melted butter, and aromatic parmesan cheese. Baking them in a muffin tin not only gives them their unique nest shape but also ensures those crispy edges we all secretly (or not-so-secretly) love. Less is more here – go easy on the pasta per nest to get that optimal crunch. Perfect as a whimsical side or a centerpiece for a vegetarian spread, these nests are bound to make your dinner for two even more special.
Dive into this reimagined pasta treat here.
Side Options
Pumpkin Mashed Potatoes
Think mashed potatoes are basic? Think again! We took this beloved side and gave it an autumnal twist. These Pumpkin Mashed Potatoes are creamy, rich, and oh-so-delicious with that added hint of pumpkin. It's the kind of dish that makes you question why you never thought of it before. Perfect for a cozy duo Thanksgiving, it promises to leave you with a warm, fuzzy feeling.
Don't miss out on this festive twist. Find the recipe here!
Sautéed Brussels Sprouts
Brussels sprouts: You either love them or haven't tried our version yet.
Sautéed to perfection with just the right amount of crisp and a flavor that's pure magic, these little greens are transformed into a side you'll be craving all year round. It's simplicity done right, letting the natural flavors shine with just a touch of added finesse.
Elevate your side dish game with this gem. Find the recipe here.
Microwaved Steamed Carrots
When planning a Thanksgiving dinner for two, it's essential to keep things simple yet scrumptious. Introducing Microwave Steamed Carrots—a perfect side dish to balance out our festive menu. While grand feasts often involve complex recipes, it's sometimes the simplest dishes that steal the show. Using just your microwave, you can achieve beautifully steamed carrots that retain their vibrant hue and natural sweetness. Add a pat of butter, a sprinkle of seasoning, and voilà—a delightful side that complements other dishes seamlessly. Plus, its convenience is a blessing, saving precious time on a busy Thanksgiving Day.
Discover the ease of this dish here.
Crispy Prosciutto Wrapped Asparagus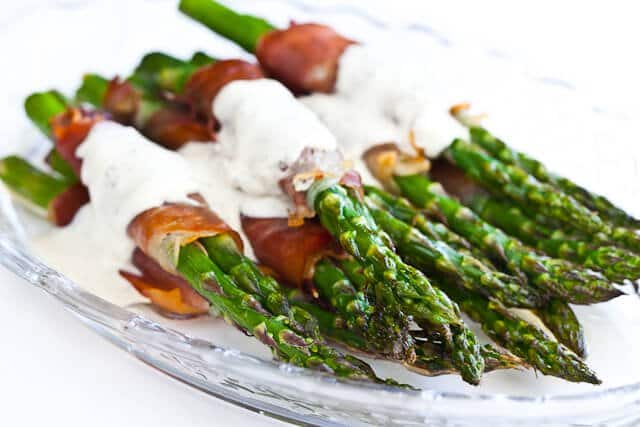 If you thought asparagus was just a spring thing, prepare to be pleasantly surprised. We're bringing you a dish that's not just visually appealing but packed with taste. The saltiness of the prosciutto combined with the fresh crunch of asparagus makes for a side that's both luxurious and oh-so-simple. It's like a little gift with every bite, making your Thanksgiving plate a tad more special.
Enhance your meal for two with this treat. Find the recipe here.
Small Batch Stuffing
What's Thanksgiving without the stuffing? And if you think it's just for the big gatherings, recipe developer Amanda Wilens begs to differ! This small batch stuffing is the perfect portion for two (or maybe four if you're feeling generous). It's heartwarming, flavorful, and will transport you straight to those childhood Thanksgivings. The beauty of this dish is in its adaptability, making it perfect for an intimate meal.
Embrace tradition with a touch of modern flair; find the recipe here.
Main Course Options
Turkey Breast (for Two!) with an Apple Cider Brine
Let's talk turkey, but let's keep it uncomplicated. Enter the Turkey Breast with an Apple Cider Brine by the talented Karen from Soup Addict. This recipe offers all the festive feels without the usual fuss of an entire bird. Think about it: A 6 pound bone-in breast is far more approachable than juggling an entire 18-pounder. Everything, from thawing to brining, fits comfortably in your average fridge. And oh, the simplicity of getting it in and out of the pan! If you've ever been intimidated by roasting a whole turkey, here's your easy entry ticket.
Start your turkey journey here.
Ribeye Cap Steak – One-Pan Dinner For Two
When we think of Thanksgiving, turkey often steals the limelight. But this year, let's toss tradition aside for a moment and consider a sumptuous alternative – the Ribeye Cap Steak. Praised as the most flavorful and tender part of the ribeye, the cap steak is truly a meat lover's dream. This one-pan dinner elevates the cap steak to new heights, pairing it with complementary sides that cook in harmony, ensuring that every bite is a delightful fusion of taste and texture. The best part? The simplicity of a one-pan meal means less time cleaning up and more time cherishing moments with your special someone.
For a step-by-step guide on crafting this delectable main course, click here.
Cornish Hen with Homemade Classic Stuffing
When you're looking for something that feels gourmet but still has the heart and soul of a traditional Thanksgiving dish, Carla of Homemade In The Kitchen's Cornish Hen with Homemade Classic Stuffing is the way to go. Tender, flavorful, and perfectly sized for two, this dish gives you the nostalgia of a family gathering but tailored for a more intimate setting. The stuffing? A classic touch that brings comfort and warmth to every bite. It's Thanksgiving reimagined without straying from its roots.
For a main course that's both intimate and cozy, click here.
Dessert Options
Pumpkin Whoopie Pies
Fall is in the air and on our plates with these delightful Pumpkin Whoopie Pies. Can we just take a moment to appreciate the genius of this treat? It's like someone took the essence of a pumpkin pie and transformed it into a portable, adorable, sandwich-like dessert. This recipe comes to us courtesy of The Pampered Chef, and every bite is a comforting blend of spiced pumpkin cake and luscious cream filling. Perfect for cuddling up on the couch with your loved one after your Thanksgiving feast.
Dive into these little pockets of joy here.
Nutella Bread Pudding
Oh, where do we begin with this treat? Imagine the warmth of traditional bread pudding, but with a decadent twist that'll make your taste buds dance. Enter the rich, creamy world of Nutella. Yes, you heard that right. This bread pudding isn't just about soft, comforting textures; it's a celebration of chocolatey-hazelnut goodness in every bite. Perfect for those sweet endings after a heartwarming Thanksgiving meal. Whether you're a long-time Nutella enthusiast or just looking for a dessert that goes beyond the ordinary, this pudding is your ticket to dessert paradise. And the best part? Sharing this with just one other means more for you!
Dive into the recipe and delight yourself here.
There you have it—a Thanksgiving menu tailored just for two, sprinkled with a dash of intimacy and a heap of flavor. Remember, it's not always about grandeur and massive feasts; sometimes, the most cherished memories come from those cozy dinners with your favorite person. Whether it's with a partner, a dear friend, or a cherished family member, this menu ensures every bite is memorable. So, light those candles, pour some wine, and savor the flavors. Wishing you a deliciously intimate Thanksgiving.