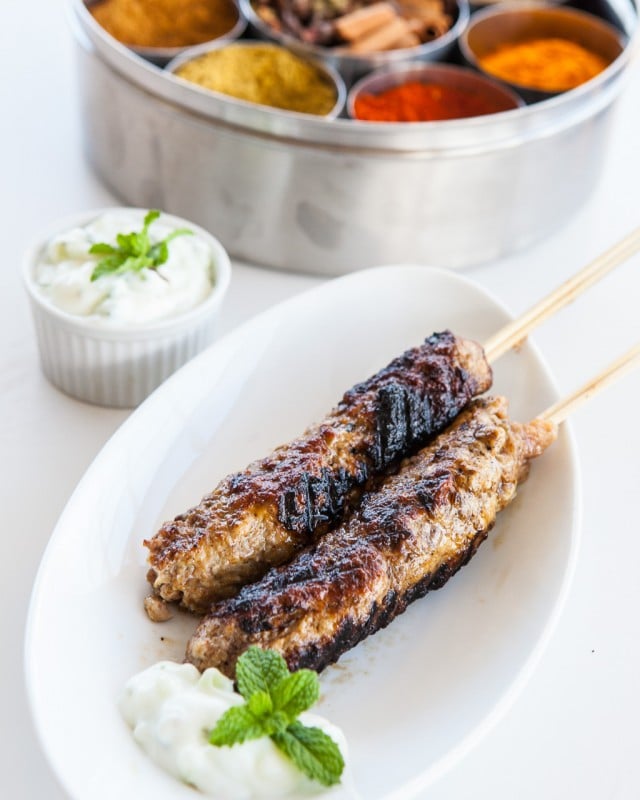 Grilled Kebabs Recipe
You'll learn:
The 1 secret ingredient that guarantees juicy, flavorful grilled kebabs
Less than 30 minutes, Costs $12 for four servings
Use any type of meat – beef, pork, lamb, bison, turkey, chicken
5-minute Minty Cucumber Raita
I've been fairly tame in my adventures in Indian cooking, mainly because the mix of spices always seemed a little intimidating. Many of my favorite Indian dishes include a long list of seven or eight different spices!
That's why the Indian inspired recipes on Steamy Kitchen usually use a pre-made spice mix, like Garam Masala, which adds a beautiful, warm, Indian flavor to the dish. If I want real Indian food, I head out to my local "Tandoori Restaurant" to load up on the lunch buffet.
Other Indian-Inspired Recipes
Green Beans with Garam Masala & Toasted Hazelnuts
Indian Chickpea Dal with Coconut Broth
Ketchup from Scratch: Indian Spiced Ketchup Chutney
Indian Cabbage with Crispy, Crunchy Chickpeas
Indian Fish Coconut Curry
It's a shame that up until now, I lumped all my Indian-inspired recipes into, "Hey, just throw in some GM!" Because Indian food has so much complexity in flavors, I've been missing out on this at home.
What's my solution? Well, most Indian families have a spice box that holds fresh several different kinds of the most-used spices, and I found one that I really love.
Come take a look:
This is the Kitchen Curry Master. A sealed tin set with spice packs that are refillable! I'd like to introduce you to the beautiful woman who created this product.
This is Neena and her Mom. Look at those happy smiles! Here's a little note from Neena:Hello Steamy Kitchen readers!

I've had a love for cooking from such a young age, stemming from the kitchen of my parents Indian restaurant in London. I put the Kitchen Master recipe book and spice collection together to help introduce more people to the simple and joyful world of authentic Indian home cooking. I hope you enjoy it!
-Neena
I decided to make a Juicy, Savory, Spice-tastic, Meaty Grilled Kebabs, using one of Neena's recipes. You don't need her Kitchen Curry Master – just cumin, coriander, garam masala and chili pepper.
And seriously, if you don't have cumin or coriander – uh, hey, do what I used to do and BAM it up with just the GM (garam masala.)
The Secret Ingredient!
The secret ingredient to making these kebabs always delicious, nearly foolproof is sweet onion. Specifically, grated sweet onion. Grating a small sweet onion gives the kebabs so much wonderful flavor and keep the meat very moist. Don't worry about any strong onion flavor – when you GRATE the onion, it breaks the onion's cellular walls, releasing all of its stinging, spicy gas.
What's left is a more mellow, liquid-like onion that's tame in flavor. This is what keeps the kebabs juicy. Also, since the kebabs are made of GROUND meat, the grated onion just melts and incorporates wonderfully in the mixture. If you use chopped or minced onion, you won't get the same effect.
If you're worried about the onion's gasses stinging your eyes, put on your favorite pair of sunglasses. Or a tip from Martha Stewart – place a burning candle right next to your cutting board.
Give it a try. Use the large holes of a box grater and grate an onion. This is also my secret ingredient to meatballs and meatloaf as well!
My favorite grater? The Wonder Grater set made in the USA by Jacob Bromwell, who has been making these Wonder Graters since 1930.
How to Make Grilled Kebabs Recipe Video
Here's a superhero tip for you – add a big handful of chopped kale (leaves only, no stem) or chopped frozen spinach (defrost, squeeze & discard all water out) to add a little something extra to the Kebabs.
If you're cooking for kids, omit the chili powder, or just add a pinch. Serve these Kebabs with a cool cucumber raita, which is really simple to make – plain yogurt + minced fresh mint + diced cucumber.
Juicy, Savory, Grilled Kebabs
Soak the wooden skewers in water for 30 minutes. If you are using Kitchen Curry Master, one of the spices is a mix of coriander and cumin. Just use 1.5 tablespoons of the mix instead of separating it out in the recipe.
Neena suggests making the mix and letting it marinate in the refrigerator up to overnight. I've made these kebabs without marinating - and they are just as delicious! Neena's original recipes includes 1/4 teaspoon baking soda, however I did not include that in my version. You are welcome to add the baking soda, Neena says that it helps keep the meat tender.
A bonus - add a bunch of chopped kale or spinach to the kebab mix!
Ingredients
FOR THE KEBABS
1

medium onion, peeled

1 1/2

pounds

ground pork, beef or lamb (or any combination)

2

cloves

garlic, finely minced

2

teaspoons

salt

2

teaspoons

ground coriander

2

teaspoons

ground cumin

1/2

teaspoon

chili powder (optional)

16

long wooden skewers, soaked in water
FOR THE RAITA
2

cups

plain yogurt

1

cucumber, very small diced

1

teaspoon

minced fresh mint
Instructions
Preheat the grill or preheat the oven by turning your broiler on high.

To make the Raita - combine the ingredients in a bowl.

To make the Kebabs, using the large holes of a box grater, grate the onion. In a large bowl, combine all of the ingredients and mix well with your hands.

Divide the meat into 8 equal sized balls and shape the ball around 2 bamboo skewers. (Using 2 bamboo skewers will make handling the kebabs and the grilling easier.)

Shape the meat along the stick to form the kebab, which should be approximately 1-inch (2.5 cm) in diameter.
Grill instructions:
Grill over medium-high heat for a total of 6-7 minutes, turning the kebabs occasionally to cook all sides.
Broiler instructions:
Broil under high heat for 10-12 minutes, turning the kebabs over once halfway during cooking.
Kitchen Curry Master and Giveaway
Guess what? I'm giving a set away! Head over to the giveaway page to throw your name in.
The Kitchen Curry Master comes with a really good quality metal tin with rubber seal that's designed to lock in all of the freshness, flavor and aroma of the spices. Each spice pack is refillable, for just a few dollars. It also comes with a cookbook that incluees 25 different recipes from Neena's family. For less than $60, this makes a perfect gift for the holidays or a wedding present.
Buy Kitchen Curry Master from Neena's website.
Don't forget – I'm giving a Kitchen Curry Master away!