This recipe features:
Classic Thai flavors, with a smooth, velvety soup
Amp of the intensity of the herbs with a quick sauté of lemongrass, cilantro stems, garlic and ginger
Customize soup by adding shrimp or mushroom (canned Asian straw mushrooms work really well)
Southeast Asian cuisine features what I call the 5S's – salty, sweet, sour, spicy, savory. This classic combination is what makes Thai Chicken Coconut Soup so irresistible – the initial kick of the spicy chile pepper and lime, followed by salty/savory that's tempered with a touch of sugar. The creamy coconut milk lingers to soothe the spiciness and allows all the distinct flavors to play nicely with each other.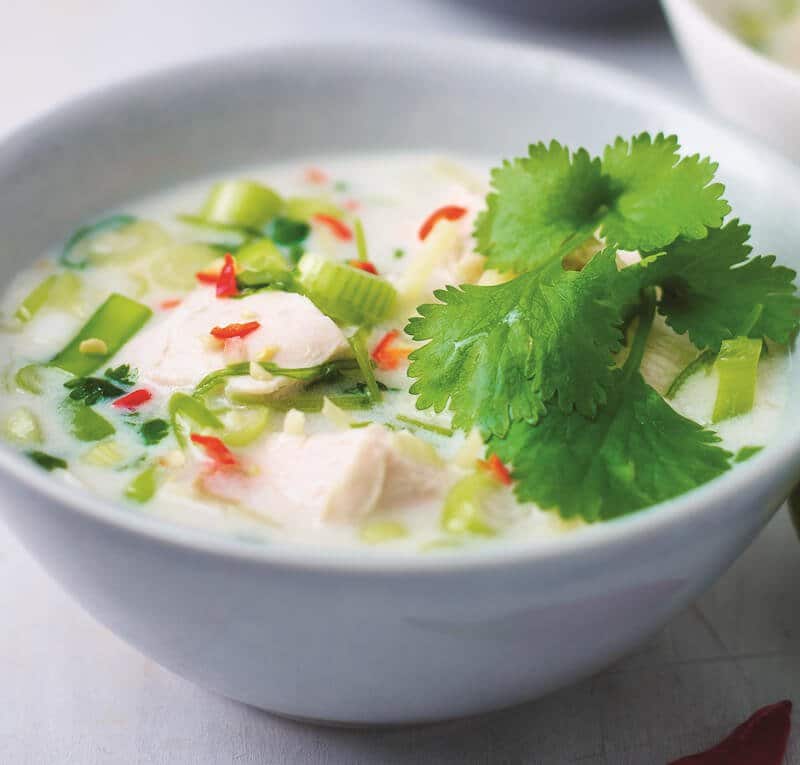 This recipe is from Chef Lorraine Pascale, a #1 bestselling author in the U.K. Her book, Everyday Easy features elegant, fuss-free cooking for weeknight dinners.
Lorraine Pascale is the undisputed queen of the kitchen, queen of the simple and the simply delicious.
Recipes include:
Thai Beef Salad with Roasted Peanuts and Chili Dressing
Shrimp Caeser Salad
Lozza's Lamb Biryani
Goat Cheese, Toasted Hazelnut & Honey Quesadillas with Arugula Salad
Crouching Tiger, Hidden Zebra Cake
and many, many more. Each recipe is easy, breezy and complete with a gorgeous color photograph. The Thai Chicken Coconut Soup Recipe is by Lorraine Pascale, photo is also from the cookbook, by Myles New.
Thai Chicken Coconut Soup Recipe
Note: Lemongrass stalk can be found at many large supermarkets (look near where they sell fresh ginger.) If you can't find a whole stalk, look for it in a tube. Many supermarkets carry lemongrass already pulverized, ready to use. Gourmet Garden is a brand I've used before (though fresh is still best.) I've also seen minced lemongrass frozen too. Another option - use a vegetable peeler to cut 2 strips of lemon peel (avoid the white, bitter pith, just the lemon skin.) I like to peel a big piece, use my fingers to twist it about to release its oils.
Same for kaffir lime leaves. If you can't find it fresh, try frozen kaffir lime leaves. Another option - peel 2 strips of lime peel. Lime is already in the recipe, so cut the peel first before juicing for recipe.
Ingredients
Vegetable oil

1

stalk

1 lemongrass stalk

2

cloves

garlic

2

inch

piece of fresh ginger

Large handful of fresh cilantro

3

kaffir lime leaves

2

12-oz cans of coconut milk

1

cup

plus 2 tbsp good-quality chicken stock

1

red chili

3

skinless, boneless chicken breasts

1

bunch

of green onions

2

limes

2-3

tablespoons

fish sauce

1-2

teaspoons

sugar
Instructions
Heat a drizzle of oil in a large frying pan or wok on a medium heat.

Trim the lemongrass stalk and discard any tough outer leaves before finely chopping the white bit (discard the green bit as it can be quite bitter). Peel and finely chop the garlic and then peel the ginger and cut it into thin slivers. Tear the kaffir lime leaves in several places on the leaf (but keep the leaf intact.) Chop the stalks off the cilantro (in one go) and then finely slice them (keeping the cilantro leaves aside for later).

Carefully toss everything in the hot oil with the kaffir lime leaves and stir fry for a couple of minutes, being careful that nothing sticks and burns.

Next add the coconut milk and stock and bring to a simmer.

Meanwhile, halve the chili lengthwise and then finely slice it, leaving the seeds in if you like it quite fiery. Chop the chicken into bite-size pieces and add both ingredients to the now-simmering soup. Reduce the heat a little and leave it to bubble away for about 8 minutes until the chicken is cooked.

Finely slice the onions (both the green and the white bits), juice the limes and roughly chop half of the reserved cilantro leaves. Add these once the chicken is cooked and then leave to simmer for a final minute. Last, add enough fish sauce and sugar to taste.

Ladle into four serving bowls, scatter the remaining cilantro leaves over and serve.
Notes
From Everyday Easy by Lorraine Pascale
Text copyright 2012 by Lorraine Pascale. Photographs copyright 2012 by Myles New. Excerpted by permission of Ecco, an imprint of HarperCollins Publishers.