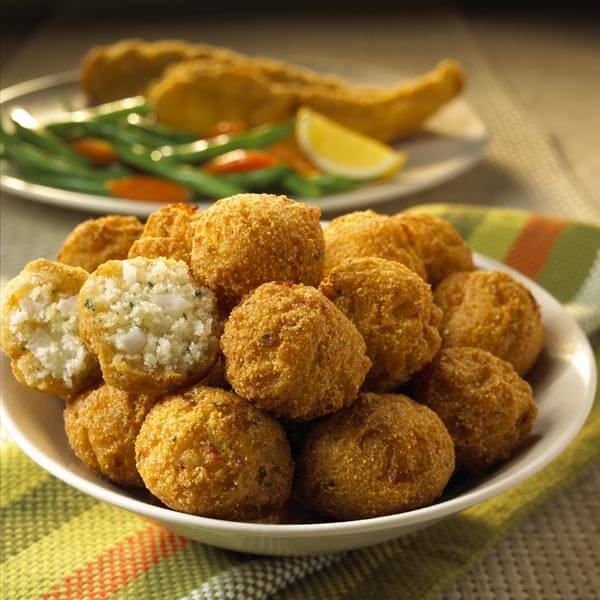 There's a seafood restaurant by our home that serves hushpuppies instead of french fries as a side. Truth be told, the seafood there is just so-so…we go there for the hushpuppies and beer.
A plateful of hushpuppies, beer in chilled mugs and fried oysters is what I order, every single time.
We just tried the Savannah Classics Hushpuppies – and they are nearly as good as the restaurant's! These hushpuppies come in a 1 pound bag, and go straight from freezer to oven.
They crisp up in the oven for 15 minutes are ready to enjoy – cold beer highly recommended!
-Jaden
p.s. We like to go a little unconventional with our dipping sauce – Thai Sweet Chili Sauce is awesome. Most grocery stores will have this sauce in the Asian section.
Savannah Classics, located in Savannah, Tennessee, has been in the business of making hushpuppies since 1970.
•Savannah Classic hushpuppies are easy and convenient to cook at home and can be found in the freezer aisle at Harris Teeter, Kroger, Publix and more. Our product is sold in over 20 states across the South, Midwest and Texas.
•The average retail price is $1.99 – $2.99.
•Available in three flavors, Original, Sweet Corn and Jalapeno, Savannah Classics' home-style hushpuppies go with everything.
•Just throw them in the oven, right out of the freezer, and in a few minutes you'll have crisp, golden, fluffy hushpuppies.
•Visit Get Pupped on Facebook or Savannah Classics Get Pupped website for additional info. Use our "Pup Finder" to locate stores near you by entering your zip code. The store locator also lets you know exactly where in the freezer aisle you can find Savannah Classics hushpuppies.
•Mouth watering yet? Visit their Facebook page to print a coupon for $1 off your next purchase of Savannah Classics hushpuppies– any flavor!
Enter the $50 Visa Card from Savannah Classics Giveaway: