Cappec provided unit for testing and giveaway. We provided an honest opinion and review. ~Jaden
Cappec Bluetooth Thermometer Review
There's a new crop of bluetooth enabled kitchen thermometers flooding the market. The Cappec Bluetooth BBQ Thermometer (model NS-BTH01) is one of the most inexpensive bluetooth thermometers that you can find, latest price on Amazon is $49.95.
It's a simple thermometer to operate – the Cappec NS-BTH01 does one thing – measure temperature. This is a good thing, as I've tested a couple other bluetooth thermometers that had so many buttons, knobs and features that I needed to sit down and study the gadget and the manual.
Power the unit on. Download the app, and it connects seamlessly. The app, like the thermometer itself, is simple. No fancy options, just configure desired temperature and it gets to work.
There are 2 sensors, each works independently. Use one or both. Set the temperature using the app or the unit itself. You can choose a temperature based on USDA guidelines, or program your own. I never use the USDA guidelines – those temperatures (government CYA numbers) always results in overcooked meat, so I always set the temps a few degrees lower.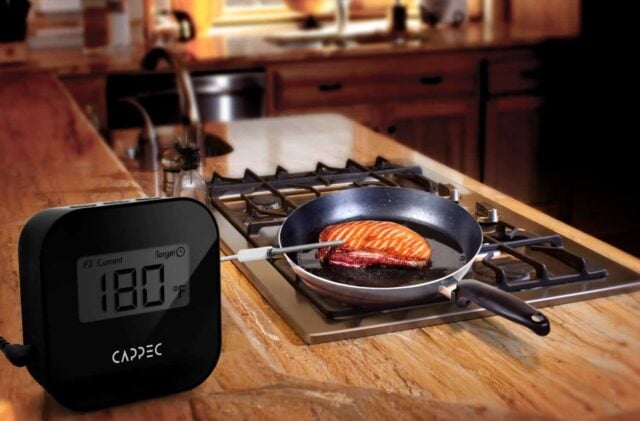 You can use the Cappec Bluetooth Thermometer in the kitchen, in your BBQ grill or in your smoker. Cappec also provided 2 clips (sold separately) so that I can use one of the probes to measure ambient temperature in the grill or oven.
The two probes allow you to monitor temperature of 2 different meats or dishes — or use one for a meat and the other with the clip to monitor the temps inside the grill. This is extremely important, whether you use charcoal, propane or wood pellet grill. A couple of times during cooking, we've run out of wood pellets in our chute, and we didn't know it until one of wondered why the food was taking so long to cook!
A note to those who aren't used to these types of thermometers – while the probes are heat safe, the plastic display device is not – so keep this on the outside of your oven or BBQ.
Conclusion: Very good value for a bluetooth thermometer. It has a 12-month warranty. Easy to operate, no glitches during installation, though installing the battery with this tiny, microscopic screwdriver (included) will be hard for people with fat fingers and bad eyesight (like me). No fancy bells or whistles, no recipes. Easy to read, app is easy to understand. Good for people not great with technology but want to dip their toe into connected devices. Use it with or without your device. ~Jaden
About Cappec Bluetooth Thermometer
Why run back and forth during BBQing? With our new Bluetooth® BBQ thermometer are you able to remotely monitor your smoker, BBQ or oven. With more than 20.000 happy customers worldwide are we constant improving our applications and user-friendliness. We focus on customer feedback and improve with our customers in mind. Hope you enjoy product.
● Bluetooth BBQ Food Thermometer with Japanese temperature sensors.
● Splash-proofed, for all of you spilling your beverages close to the BBQ and Smokers.
● Free Application for iOS (iPhone 4s and above) and Android 4.3 and above. Updated End June 2014.
● 2 probes included, which are BBQ and Oven safe! Sensors read up to 393F – can withstand temperatures up to 600F.
● Perfect for ovens/BBQs and smokers.
● Highly accurate sensor from Japan with instant reading of temperatures.
● Can be used with and without your smartphone.
Enter the Cappec Bluetooth BBQ Thermometer Review & Giveaway: