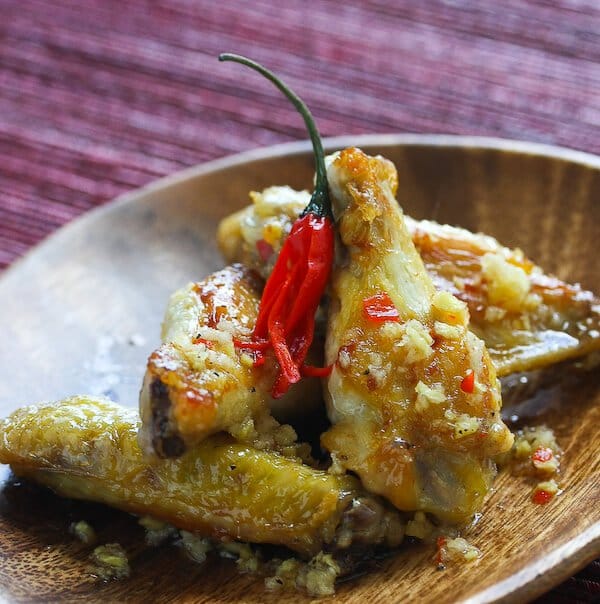 I was lucky enough to share the green room with Chef David Chang of Momofuku while we were both cooking on View From The Bay television show in San Francisco. If you've never heard of David Chang, he's the guy that Anthony Bourdain calls the one of the best chefs in the world." And if you're familiar with Bourdain, the bad-boy of food television, you can insert a couple of f-bombs in that sentence. In fact, you could probably throw in a few f-bombs for Chang as well.
Back in the green room, David was sprawled out on the couch in slouchy jeans, sleepy eyes, head in hands moaning, "Damn, I'm so hung over," and his co-author Peter Meehan chimes in, "yeah, we drank about 100 shots last night." And here I am sitting perkily on the other couch, amped up on an energy drink, in my perfectly pressed shirt, sparkly silver jewelry and 12-ounces of hairspray.
Was I intimidated, being in the presence of the most talked about restaurant chefs in America? Not one bit. And it had nothing to do with my Red Bull wings. David Chang is so down to earth, warm and big-brother friendly (uh…wait. I think I'm older). We exchanged signed cookbooks, a big hug and even a smiley photographic moment.
To get a glimpse of Chang's brilliance, pick up his
Momofuku cookbook where he reveals recipes from three of his restaurants including his famous pork belly buns recipe. While most of the recipes aren't really practical for the average home cook (anyone know where I can get a whole pig's head?) the ones that are simple enough are worth the price of the book. We made the Octo Vinaigrette recipe and tossed them with baked chicken wings (instead of twice-fried, 10-step version that's in the book) for one of the very best chicken wings I've ever laid lips on.
Chicken Wings with Momofuku Octo Vinaigrette Recipe
Recipe from Momofuku cookbook by David Chang
The recipe for the Octo Vinaigrette (all of the ingredients minus the wings) is straight from book. Really take the time to chop the garlic and ginger finely and evenly. Don't buy the jarred, paste or puree ginger and garlic, just go for the real stuff. Also make sure you use a good quality light soy sauce. I like using low-sodium version. If all you can find is regular soy sauce, I'd recommend cutting the soy sauce to 3 tablespoons and adding 1 tablespoon of water. If you love fresh cilantro, you can add 1 tablespoon of minced fresh cilantro to the vinaigrette as well. You can use any type of chili pepper you want (or omit) and I've used small, skinny bird's eye chili with the seeds discarded. Feel free to use jalapeno, serrano or even the big banana chili peppers for less heat.
Instead of frying the wings, I like baking them instead as it's easier and less messy. I dare not mention "baking is healthier too!" as wings are fattening no matter how you cook 'em. I buy the chicken wings whole, cut them apart and freeze the tips for stock.
Ingredients
3

pounds

chicken wings, tips saved for another use

2

tablespoons

finely chopped garlic

2

tablespoons

chopped peeled fresh ginger

1/4

teaspoon

finely chopped fresh chili pepper

1/4

cup

rice wine vinegar

1/4

cup

light soy sauce

2

tablespoons

canola, vegetable or grapeseed oil

1/4

teaspoon

Asian sesame oil

1 1/2

tablespoons

sugar

freshly ground black pepper
Instructions
Preheat oven to 425F. Line a baking pan with parchment paper (or spray the pan with cooking spray). Place the chicken wings on the parchment paper in single layer. Bake for 20-25 minutes, turning the chicken wings over halfway during cooking process.

While chicken is baking, make the vinaigrette. Combine together the remaining ingredients in a large bowl (large enough to fit all of the wings)

Toss the chicken wings in the vinaigrette to coat.
***
And more…
For dessert, why not try David Chang's Crack Pie? Only Martha Stewart could wrangle the recipe.
Inuyaki makes the Momofuku Pork Belly Buns
Serious Eats has Momofuku Brussels Sprouts
Andrea of Vietworld Kitchen tries the Momofuku Slow Poached Eggs
Momofuku Ginger Scallion Noodles by The Amateur Gourmet