Anolon Nouvelle Copper Luxe Cookware Review & Giveaway
This is a Anolon Nouvelle Copper Luxe Cookware Review, including both PROs and CONs.
Anolon Nouvelle Copper Luxe is crafted in heavy-gauge hard-anodized aluminum and features the signature characteristics of the original Nouvelle Copper collections: flared silhouettes, Unity Surface flat rivets, triple layer non-stick interiors, and a heavy pan base layered with aluminum, copper and magnetized stainless steel.
Anolon Nouvelle Copper Luxe Review
The set is gorgeous. I love the deep bronze color. Included in the set:
1.5-qt. saucepan and lid
3-qt. saucepan and lid
8-qt. stockpot and lid
8.5″ skillet
12″ skillet and lid
3-qt. sauté pan and lid
Anolon Nouvelle Copper Luxe Cookware Material
Hard-anodized aluminum with copper midlayer for fast, even heating. Induction stove friendly.
PRO: Copper is the best material for conducting heat, however, is expensive and difficult to care for. Sandwiching the copper provides you the benefit of copper without the maintenance. Copper is my favorite cooking material – it heats up quickly and cools down quickly. This set is dishwasher safe and oven safe to 500F.
PRO: The interior of the cookware is PFOA-free non-stick, but with a big difference….you can use metal utensils with this cookware!
Anolon Nouvelle Copper Luxe Cookware Pieces
PRO: The handles are ergonomic, sturdy and solid. They are very comfortable.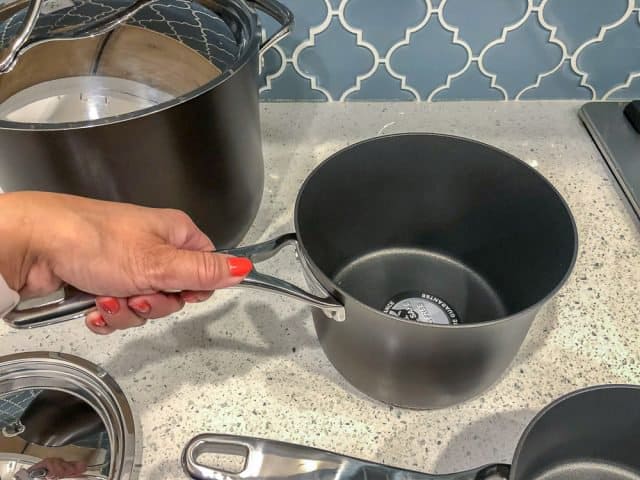 The smaller 1.5 quart saucepan is a great size. Perfect for warming up a can of soup, boiling a little water.
PRO: I actually use the little saucepan quite a bit – however the problem I have with my current set (not Anolon) is that the pot is too narrow and I have difficulty balancing the saucepan on the stove grate. I'm always afraid it will tip over! The Anolon small saucepan is wider, lower and balances perfectly.
Here's the larger 3 quart saucepan.
The stockpot is tall, great for soups and boiling pasta.
PRO: Let me show you my favorite piece in the set: the large 12″ skillet. The pan is DEEP! Combined with a domed lid, it can double as a "wok" for stir fries.
It's HUGE!
A deep skillet is amazing. It keeps the ingredients contained during a lively sauté and stir fry, and it keeps the oil from splattering on your stove when you cook on high heat.
Like cooking a steak! The extra large pan keeps all the oil inside the pan. I'm in love with the this cookware. Look how evenly browned my steak gets.
CON: Such a big skillet needs a helper handle!
The sauté pan is nice, smaller (holds 3 quarts). With such a large skillet (above), I was expecting a large sauté pan as well.
The set comes in 2 colors – sable and onyx. I found the Onyx set on Amazon, and the Sable set at Macy's.
Other Anolon cookware sets that we've reviewed:
Anolon Advanced Tri Ply Cookware Set
Anolon Nouvelle Copper Luxe Giveaway
---
Giveaway Ends: 2018-10-15
Number of Prizes Available: 1
Max Entries Per Day: 1
** Please add hello@steamykitchen.com to your contacts to help prevent email notifications from going into spam folders.
Never miss another Steamy Kitchen Giveaway!
Subscribe to our Giveaway Notifications
to keep up to date on all of our giveaways! We will even throw in a special gift when you confirm your subscription!
List of
Past Winners.
DISCLAIMER & OFFICIAL RULES: The giveaway product is provided by the sponsor of the giveaway and will be shipped from the sponsor directly. No purchase necessary to enter or win. Giveaway is open to people who are 18 years of age at time of entry and open to people worldwide. Steamy Kitchen and its sponsors only ship physical prizes to United States addresses. However, Steamy Kitchen reserves the right to provide an Amazon.com or Amazon.ca gift card for the value of the prize (at time of publishing) in lieu of shipping physical product due to shipping costs and logistics, especially for our international winners. Steamy Kitchen assumes no responsibility for late or misdirected entries due to SPAM, technological, or e-mail filtering issues or for prizes lost in transit. Winner will be notified by email, and must respond within 5 business days, otherwise winner will forfeit the prize and another winner may be drawn. For this giveaway, entrants can enter the designated number of times per e-mail address per day. The use of any system, robot, agent, or software to automatically submit entries in connection with this Giveaway is prohibited. Winners of giveaways are published on Steamy Kitchen, and winner's name and city/state/country are announced in Steamy Kitchen email newsletters. See rest of the Official Giveaway Rules.