Jese Air Fryer Review & Giveaway
This is a review of the Jese Air Fryer, including both PROs and CONs.
Jese Air Fryer Review
The past week, we've been air frying as many meals as possible. Seafood, potato, breakfast sandwiches, steaks. We've discovered that some food works great (potatoes, seafood, chicken) and some are just better on the stove (steak).
With so many air fryers on the market, the prices have dropped significantly over the past year. I remember paying $300 for my Philips Air Fryer several years ago. Now, companies like Jese are selling them for $76.00.
This is a smaller unit, holding 3.5 quarts of food, good for 1-3 people. According to Jese, it can cook, "14 chicken wings, 1 pizza, 3 steaks, 2.2 lbs chips, a dozen of cookies, 8 cupcakes, 8 tarts, 6 corn, 20 shrimp."
*Personally there's no way it can cook a whole pizza. Unless you are talking about itty bitty personal frozen pizza about 6″ – 7″ diameter.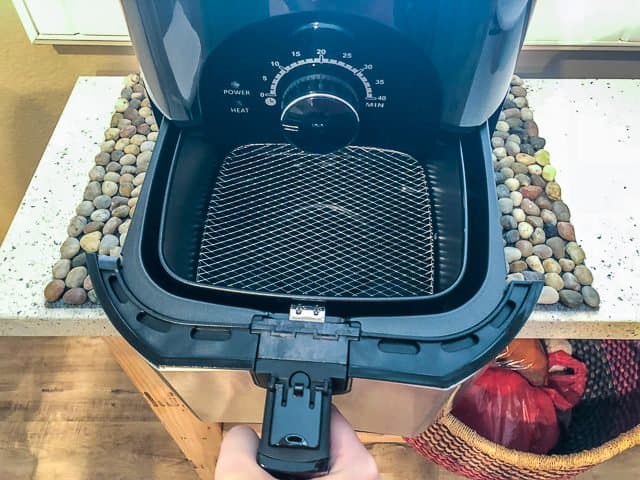 To control the temperature, there is a large, easy to use (and read) dial. I love this. We've tried so many air fryers which digital controls and confusing interface. This is simple and easy.
On the front of the unit, the timer is also simple and easy to use/read.
Another great feature: at the bottom, the power cord wraps neatly.
The lower unit and basket removes without a hitch. The basket release if you flip open the cover and push the button. The little cover seems like a hassle, but it's a good feature…on other air fryers without the little flippy cover, it's too easy to accidentally push the button. Guess what happens when you have a very hot basket, hot food and hot base???? The very hot base drops and falls if you accidentally push the button.
Let's cook some salmon, just simply seasoned and sprayed with a bit of cooking oil.
We cooked at 355F for the recommend 15 minutes. It needed another 2 minutes or so of cooking. A drawback of a manual dial for timer – it's very difficult to add just minute or two on the dial.
Fish came out perfect. So flaky, tender and not greasy at all. Because of the air frying, all the juices were retained in the fish. We cooked this salmon with just a spritz of oil.
PROs: Simple to use, large controls that are easy to read and operate. Works great. Nice price.
CONs: I would like a larger unit to hold more food for a family of 4. Also, I would like a rack to be included so that you can cook two layers of food. Difficult to adjust small increments of time.
Jese Air Fryer Giveaway
---
Giveaway Ends: 2018-11-15
Number of Prizes Available: 1
Max Entries Per Day: 1
** Please add hello@steamykitchen.com to your contacts to help prevent email notifications from going into spam folders.
Never miss another Steamy Kitchen Giveaway!
Subscribe to our Giveaway Notifications
to keep up to date on all of our giveaways! We will even throw in a special gift when you confirm your subscription!
List of
Past Winners.
DISCLAIMER & OFFICIAL RULES: The giveaway product is provided by the sponsor of the giveaway and will be shipped from the sponsor directly. No purchase necessary to enter or win. Giveaway is open to people who are 18 years of age at time of entry and open to people worldwide. Steamy Kitchen and its sponsors only ship physical prizes to United States addresses. However, Steamy Kitchen reserves the right to provide an Amazon.com or Amazon.ca gift card for the value of the prize (at time of publishing) in lieu of shipping physical product due to shipping costs and logistics, especially for our international winners. Steamy Kitchen assumes no responsibility for late or misdirected entries due to SPAM, technological, or e-mail filtering issues or for prizes lost in transit. Winner will be notified by email, and must respond within 5 business days, otherwise winner will forfeit the prize and another winner may be drawn. For this giveaway, entrants can enter the designated number of times per e-mail address per day. The use of any system, robot, agent, or software to automatically submit entries in connection with this Giveaway is prohibited. Winners of giveaways are published on Steamy Kitchen, and winner's name and city/state/country are announced in Steamy Kitchen email newsletters. See rest of the Official Giveaway Rules.