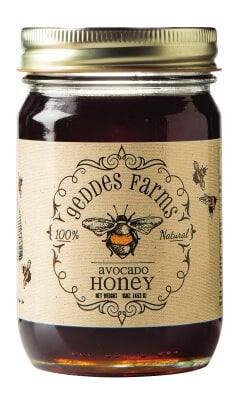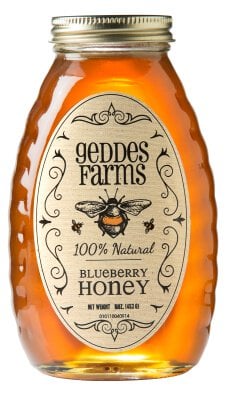 I've never been big on honey before, I've never payed it much attention because after all, honey is just honey, right?
Well, I couldn't have been more wrong. And I only realized it when the good people from Geddes Farms sent me a package that (quite figuratively) knocked me off my feet!
Honey isn't just honey! At least not where Geddes Farms is concerned. When I opened the package, the first one I saw was the Avocado Honey and I was immediately intrigued because the color was this amazing, shimmering green-black. The avocado honey has rich, complex flavors – very difficult to explain, but tasted a bit of coffee bean notes, dark molasses and slight tinge of chocolate. I think Geddes Farms is the only place where you can get it!
Then there's the Gallberry Chunk Honey which is an actual piece of honey comb surrounded by delicious Gallberry Honey (we enjoyed this with crackers and creamy cheese.) And last but most definitely not the least, the Blueberry Honey, which is perfect for pancakes! I love all three of them and it would be impossible to have me choose a favorite! And what's more amazing is that all of Geddes Farms' honey is 100% pure, raw, unfiltered, unprocessed and unheated. Straight from the hive to the jar! (Which may cause them to crystallize overtime, completely normal though and can be lightly reheated to get back to liquid form!)
Gallberry Chunk Honey
Gallberry Honey is one of the south's best kept secrets. That's because most of it is consumed by the local Georgia population. Chunk honey (or comb honey) is cut directly from the home of the honey bee. The piece of actual honey comb in honey is a true delight and full of flavor. If you want 100% natural unprocessed honey then Gallberry Chunk Honey is for you.
Blueberry honey has a medium amber color and a very sweet flavor. It's a great honey for pancakes or for sweetening oatmeal.
Avocado Honey
Our Avocado Honey is a dark colored honey that is known for its rich and bold flavor. This honey contains many vitamins and minerals and is full of antioxidants. It can be used for baking and in recipes as a substitute for brown sugar and molasses.
These Honeys are all unaltered, non-pasteurized, single sourced and made in the USA from sustainable sources!
Enter The Geddes Farms Honey Giveaway
Giving away 1 jar of Avocado Honey, 1 jar of Gallberry Chunk Honey and 1 jar of Blueberry Jam.