Ninja provided the Coffee Bar for an honest review & fun giveaway.
Ninja Coffee Bar Review
I just came back from a few days in Chicago, where I dined like a princess, spoke on blogger happiness and hosted a raging dance party at BlogHer Food conference. The non-stop schedule of events (and hangovers) was relieved every day by Ninja's small booth (they were one of the sponsors) where they handed out free coffee made from their brand new Coffee Bar.
This machine has lots of tricks under its hood – the adjustable stand means you can make 1 cup, 1 thermos or 1 carafe of coffee. Instead of just 1 type of brew, the Coffee Bar has different brew settings, depending on if you want iced coffee, a mild brew or a rich, concentrated brew.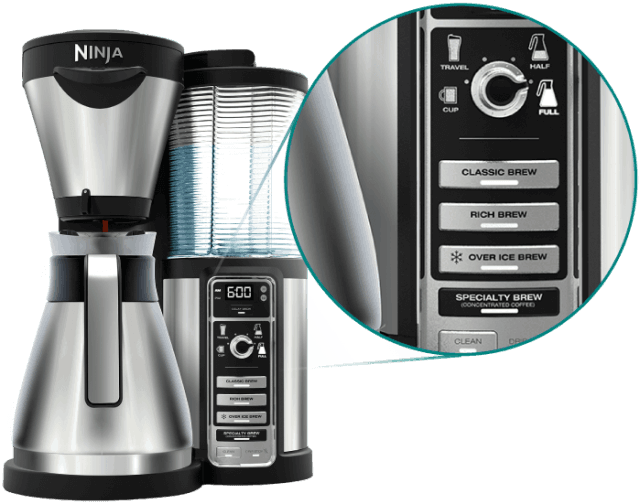 It's hard to think about iced coffee right now (I'm bundled in like 5 layers of clothing right now), but iced coffee is really difficult to make just right. The brew has to be concentrated, but not bitter. Too much ice and you'll get weak coffee. The Ninja Coffee Bar impressed me most with the iced coffee setting, where you can brew directly over ice in your cup.
Included with the package is a simple milk frother. Add milk, microwave, and froth. So simple. Here's what I love about it – no cleaning the steam pipe that always gets plugged in my espresso maker! Ninja Coffee Bar is everywhere – I've seen it at Walmart, Target, Bed Bath & Beyond — and of course you can buy it on Ninja's site (they have a special deal on their site.) A great gift for the coffee lover in your life.
My good friend and fellow food blogger, Beth from Hungry Happenings made Flourless Chocolate-Coffee Cake Cats, using the Ninja Coffee Bar to brew a 'rich brew' coffee for the batter.
Ninja Coffee Bar Giveaway