My dogs have been very lucky the past 2 weeks! We are reviewing The Farmer's Dog Fresh Pet Food delivery service – here are our thoughts, both PROs and CONs. We are also giving away $100 worth of their service.
The Farmer's Dog Food Review
Their tagline sums up their business quite well, "We test on humans."
They begin with "human -grade" ingredients that's all-natural, pretty much ingredient's you'd find in any grocery store.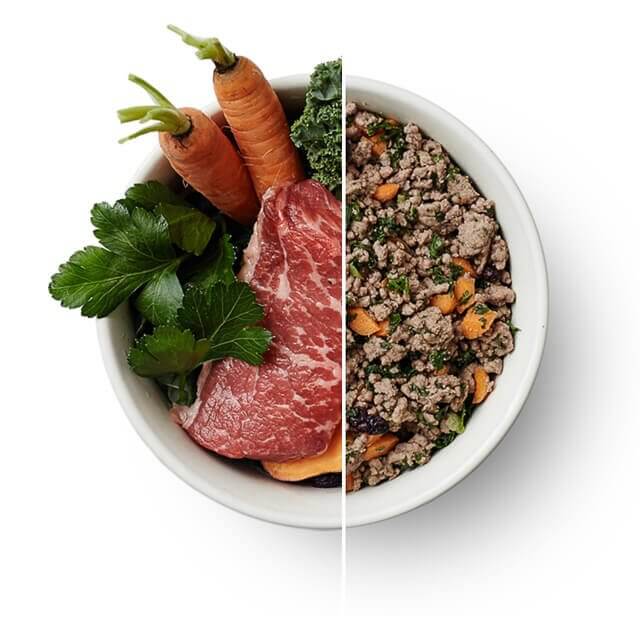 After a series of questions about your dog, including weight, activity level, pickiness, etc. The Farmer's Dog comes up with a custom meal plan.
Lainey and Rocco's pouches included:
Turkey Recipe: Turkey, parsnips, chickpeas, carrot, broccoli spinach, fish oil, The Farmer's Dog nutrient blend.
Beef Recipe: Beef, lentils, sweet potatoes, beef liver, carrot, kale, sunflower seeds, fish oil, Farmer's Dog nutrient blend.
Pork Recipe: Pork, sweet potato, potato, pork liver, green beans, cauliflower, blueberries, fish oil, Farmer's Dog nutrient blend.
What is "Farmer's Dog Nutrient Blend"? From their website: "All of our meals are balanced to meet AAFCO standards by our veterinary nutritionists. Our nutrient blend consists of all food grade ingredients: dicalcium phosphate, zinc gluconate, ferrous sulfate, vitamin E supplement, copper gluconate, thiamine mononitrate, riboflavin, vitamin B12, cholecalciferol. No preservatives, no filler, just what your dog needs."
PRO: Good, quality ingredients. Stuff that I would eat! Actually these recipes sound like delicious. I love how The Farmer's Dog takes into account breed, weight, activity levels. No preservatives. Fresh food! It arrives cold, with ice packs (not frozen).
CON: Currently, they can't support dogs on a prescription diet, and there's no way to specify "no green beans" in case of allergies.
How much does it cost?
It all depends on your dog. Small dogs can eat for as little as $21 per week. Our dogs are 55-70 pounds, so their cost is about $50 per week, each.
CON: This could get quite expensive! $100 per week for our two dogs = $450 per month. That's just not affordable for many families.
Our Farmer's Dog package
Our dogs usually eat dry dog food mixed with a couple spoonfuls of canned food or appropriate leftovers from dinner the night before.
At least once a week (more in the winter), I make homemade bone broth or soup in the slow cooker or pressure cooker. The meat and some of the veggies used in making the soup is shredded and then saved to mix in with the dog food for the week.
I wanted to do the same with The Farmer's Dog food – mainly because if I were to continue their service and pay monthly, I wouldn't be able to afford $450 per month. But, if I mixed their food with dry food, I know I could stretch out the packs.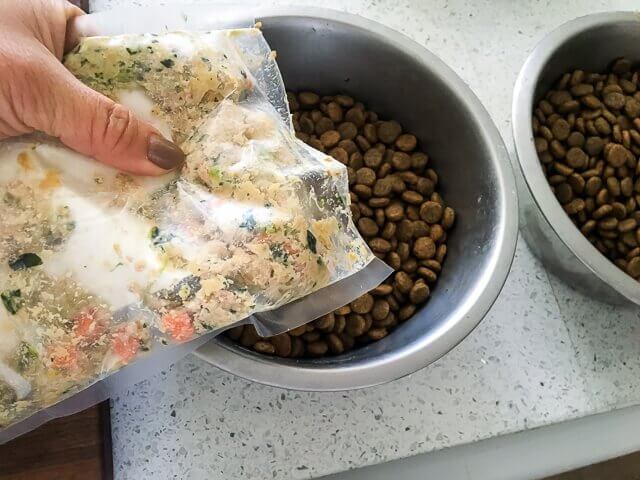 Look at this! Actually looks yummy. I actually took a little bite. Not bad! Add some celery salt, slap some bread on and it's turkey salad sandwich.
Taste Test: Rocco and Lainey
They wait and make eye contact with me after the food is put down. They don't move an inch until I release them with the magic word.
"Ok!"
PRO: Every day – the bowl is licked clean. Dogs approved!
Meal customization/delivery
I went through the questionaire several times, just inputting different variables to see what meal plan it comes up with.
I pretended I had a 15 pound Chihuahua who was super picky about food and needed to gain weight…and a 125 pound Mastiff who needed to lose weight. The recipes came out the same, so the only customization really was the amount of food per dog.
CON: They are a new company, so I'm assuming some better customization will be offered in future.
PRO: The packs are compact, flat and store really easily in refrigerator and freezer. Minimal packaging. I keep the dog food in the pouch, and just squeeze out what I need, clip the bag to store.
I think that if you contact the company, you can customize the delivery schedule. So, let's say that I want 1 month's ration to last me 2 months. I would just contact The Farmer's Dog and tell them to send me a shipment every couple of months.
I just need the freezer space to hold all the packs. Since there are no preservatives, you would treat storage of their food just like human food.
Currently, they only offer food for dogs – you're outta luck if you have cats or iguanas.
Final thoughts on The Farmer's Dog
For doggie lovers who care about the food for their fur-babies – this is the service for you! It's expensive, but then again, I know some families spend quite a bit on crappy dog food and treats full of nasty ingredients, preservatives and filler.
If budget is a factor, you can do what we did – quality dry dog food mixed in with The Farmer's Dog food. Your dogs will love it, like ours did.
The company provides a free 2 week trial for 1 dog. You can stop/pause delivery at any time. They guarantee their food. With a 2 week free trial, you and your dog can see if you like it. You can sign up here.
We got 2 weeks of food for both Lainey and Rocco to try out. We are not getting paid for this review, and we do not get any commission or additional perks from The Farmer's Dog. As always, we are very fair in our reviews, highlighting both PROs and CONs of the product or service we are featuring!
The Farmer's Dog Giveaway
We are giving away $100 gift card to The Farmer's Dog.