VitaClay Review & Giveaway
Disclaimer: Products are provided to Steamy Kitchen for a thorough, honest review. We do not receive payment for reviews. Each review takes 5-10 hours of hands-on testing, writing and editing.
This is a review of the VitaClay 6-quart Organic Clay Multi-Cooker, with both PROs and CONs.
VitaClay 6-quart Organic Clay Multi-Cooker Review
Since 2010, both my Mom and I have been using VitaClay's cookers religiously. Our primary use the VitaClay to make Chinese soups and bone broths (here are several recipes for Asian style bone broth!)
Mom and I love the VitaClay for these reasons:
Perfect cooking – we've never had a single bad experience with the VitaClay. No burnt soups, no undercooking, no malfunctions.
Organic clay that's naturally non-stick, no chemicals, all-natural and the clay heats evenly and retains heat beautifully.
Simple to use
This particular 6 quart VitaClay model (VM7800-5C) is larger than the other models, which is a perfect size for bone broth for your family.
I'm making a Chinese style bone broth, with pork bones, dried mushrooms, a slab of fresh ginger and whole garlic cloves.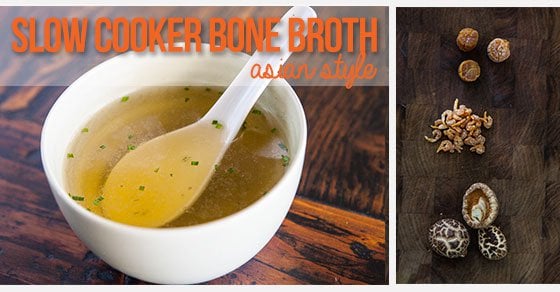 The plastic, removable stoppers (package includes extra, too) helps the VitaClay expel the right amount of steam for soups and stews. I wasn't a big fan of these plastic knobbers….they are too easy to lose….and there are 4 of them!
Mom loved this VitaClay model so much, I gave it to her for her kitchen. Our deal was that she would make bone broth every time I came to dinner! She lives about 10 minutes away, so we're all good….LOL!
This particular model is really meant for soups, stews, oatmeal, porridge, and other "wet" cooking.
VitaClay VM7800-5C Features
6-in-1, a Fast Slow Cooker, a Steamer, a Slow Cooker, a Stock Pot, a Hot Cereal Maker, a Yogurt Maker/ a Low Temperature cooker
Unglazed clay pot with high dome clay top
Naturally intensifies flavor and texture
Sealing in essential nutrients and alkalizing your foods
Lead free and non-stick coating free
Cooks 4 times faster than your mother's slow cooker!Your whole meals can be ready as little as 30 minutes or in less than an hour!
Pre-programmed functions- Fast Cook/Steam, Slow Cook/Bone broth, Jook/hot cereal, and Yogurt
Set and forget – up to 9.5 hours cooking timer with 30 minutes increments
Gelatin and collagen rich bio-available BONE BROTH in record time — ONLY 10 HOURS
Delay Timer and Automatic Warm setting– Food is hot and ready when you are
Power rating 110 VAC / 60 Hz / 600 Watts
model # VM7800-5C (Clay insert)
Buy the VitaClay here for $129
Thank you for supporting Steamy Kitchen!
Even if you don't buy the product shown, starting your Amazon shopping here helps our small family business. We get a small commission from Amazon that helps keep this site running free!

VitaClay VM7800-5C Giveaway
---
Giveaway Ends: 2017-11-15
Number of Prizes Available: 1
Max Entries Per Day: 1
** Please add hello@steamykitchen.com to your contacts to help prevent email notifications from going into spam folders.
Never miss another Steamy Kitchen Giveaway!
Subscribe to our Giveaway Notifications
to keep up to date on all of our giveaways! We will even throw in a special gift when you confirm your subscription!
List of
Past Winners.
DISCLAIMER & OFFICIAL RULES: The giveaway product is provided by the sponsor of the giveaway and will be shipped from them directly. No purchase necessary to enter or win. Sweepstakes is open only to who are 18 years of age at time of entry. Steamy Kitchen and its sponsors only ship physical prizes to United States and to Canadian addresses. However, Steamy Kitchen reserves the right to provide an Amazon gift card for the value of the prize in lieu of shipping physical product due to shipping costs and logistics. Steamy Kitchen assumes no responsibility for late or misdirected entries due to SPAM, technological, or e-mail filtering issues or for prizes lost in transit. For this giveaway, entrants can enter the designated number of times per e-mail address per day. The use of any system, robot, agent, or software to automatically submit entries in connection with this Giveaway is prohibited. See rest of the Official Giveaway Rules.