This is a review of the VitaClay 6-quart Organic Clay Multi-Cooker, with both PROs and CONs.
VitaClay 6-quart Organic Clay Multi-Cooker Review
Since 2010, both my Mom and I have been using VitaClay's cookers religiously. Our primary use the VitaClay to make Chinese soups and bone broths (here are several recipes for Asian style bone broth!)
Mom and I love the VitaClay for these reasons:
Perfect cooking – we've never had a single bad experience with the VitaClay. No burnt soups, no undercooking, no malfunctions.
Organic clay that's naturally non-stick, no chemicals, all-natural and the clay heats evenly and retains heat beautifully.
Simple to use
This particular 6 quart VitaClay model (VM7800-5C) is larger than the other models, which is a perfect size for bone broth for your family.
I'm making a Chinese style bone broth, with pork bones, dried mushrooms, a slab of fresh ginger and whole garlic cloves.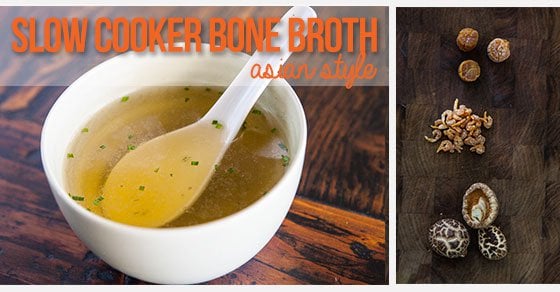 The plastic, removable stoppers (package includes extra, too) helps the VitaClay expel the right amount of steam for soups and stews. I wasn't a big fan of these plastic knobbers….they are too easy to lose….and there are 4 of them!
Mom loved this VitaClay model so much, I gave it to her for her kitchen. Our deal was that she would make bone broth every time I came to dinner! She lives about 10 minutes away, so we're all good….LOL!
This particular model is really meant for soups, stews, oatmeal, porridge, and other "wet" cooking.
VitaClay VM7800-5C Features
6-in-1, a Fast Slow Cooker, a Steamer, a Slow Cooker, a Stock Pot, a Hot Cereal Maker, a Yogurt Maker/ a Low Temperature cooker
Unglazed clay pot with high dome clay top
Naturally intensifies flavor and texture
Sealing in essential nutrients and alkalizing your foods
Lead free and non-stick coating free
Cooks 4 times faster than your mother's slow cooker!Your whole meals can be ready as little as 30 minutes or in less than an hour!
Pre-programmed functions- Fast Cook/Steam, Slow Cook/Bone broth, Jook/hot cereal, and Yogurt
Set and forget – up to 9.5 hours cooking timer with 30 minutes increments
Gelatin and collagen rich bio-available BONE BROTH in record time — ONLY 10 HOURS
Delay Timer and Automatic Warm setting– Food is hot and ready when you are
Power rating 110 VAC / 60 Hz / 600 Watts
model # VM7800-5C (Clay insert)
Buy the VitaClay here for $129
Thank you for supporting Steamy Kitchen!
Even if you don't buy the product shown, starting your Amazon shopping here helps our small family business. We get a small commission from Amazon that helps keep this site running free!

VitaClay VM7800-5C Giveaway