My Favorite Sauté Pan is Made in the USA
This is a Hammer Stahl 4qt Sauté Pan review, including both PROs and CONs, after using it in our kitchen for 2 weeks. – jaden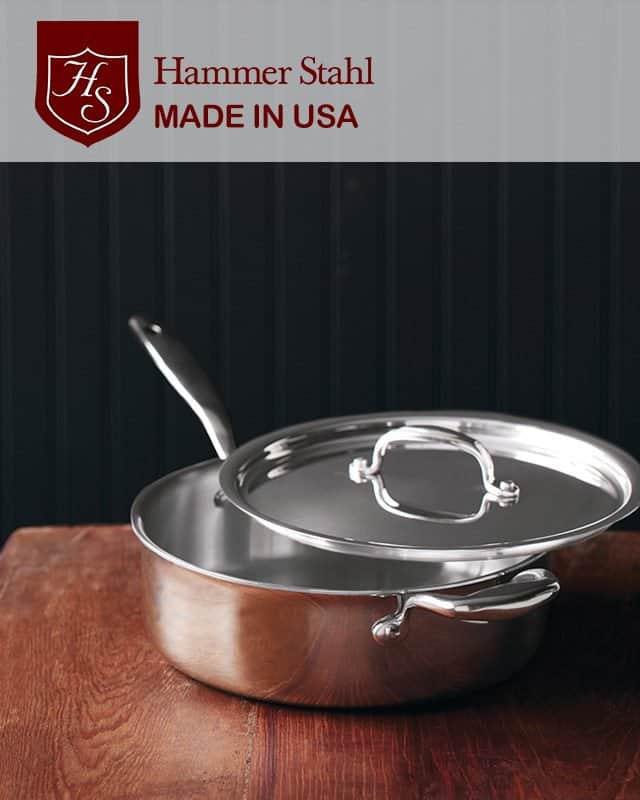 Hammer Stahl 4qt Saute Pan Review: Made in USA
Hammer Stahl is one of the oldest cookware companies in the North America, founded in 1874 in Sheboygan, Wisconsin.
In the 1970's, they began manufacturing their famous Hammer Stahl American Clad Cookware factory in Clarksville, Tennessee. Their team of American workers hand-crafts the 7-ply surgical steel cookware and German-steeled knives.
7-Ply American Clad Cookware
Hammer Stahl cookware is made of 7-ply stainless steel. This 7-ply material is used throughout the cookware, from the bottom and all the way up the sides to the top vs. competitors who only use the expensive materials bonded together at the bottom of the cookware. This means the pan heats more evenly, heats just as hot up the sides of the pan, and also is stronger.
Hammer Stahl's 7-ply construction includes a layer of ferritic steel that makes the cookware induction stovetop friendly. This ferritic steel layer throughout the cookware means better quality and stronger cookware. Cheaper "induction ready" cookware only use a magnetic type of stainless steel that is more corrosive.
The handles are hollow, so that they stay cool for comfortable handling. All of the cookware is hand-finished, and hand polished, by American workers, and includes a lifetime warranty.
The price for Hammer Stahl cookware is affordable. This 4-quart sauté pan is currently on sale for $129.99, which is an absolute bargain, considering the quality. Compare that price with other sauté pans in the marketplace.
As you know, all my product reviews include CONs. The only CON that I found in Hammer Stahl cookware is something I find in almost all cookware….rivets that stick out. I tend to get grease or food stuck around these rivets, and it's a little difficult to clean around them.
I'm extremely proud of this company, and what they stand for. Small-batch manufacturing means you are truly cooking with a hand-crafted piece of cookware. This is truly a piece of cookware that will last multiple generations. I highly recommend the Hammer Stahl 4qt Sauté Pan, which I consider an essential part of my cookware collection.
In fact, if you're looking to just start with ONE pan, this 4qt Sauté Pan would be the best place to start. It comes with a lid, and is one of their most versatile pieces. You can use the pan for sauté, frying, braising, roasting, and even stir-frying.
Stir Frying in the Hammer Stahl 4qt Sauté Pan
We tested the versatility of the Hammer Stahl 4qt Sauté Pan by creating a beef and mushroom stir fry.
First, we got the pan as hot as we could, and added in thinly sliced steak that had been marinated in a bit of soy sauce, cornstarch, and black pepper.
We seared both sides, but left the beef medium-rare, and removed the beef from the pan. *By the way, only exceptional quality pans can do this….if your pan can't get hot enough, or evenly hot, thin sliced meats will never get a good sear AND stay medium-rare in the center!
Look at all the flavor left in the pan.
Add onions and sliced fresh mushrooms (I used King Oyster mushrooms, one of my very favorite mushrooms in the world!) and scrape with spatula or tongs to pick up the flavorful bits on bottom of pan.
Now pour in a bit of cooking wine (use dry white wine or Chinese rice wine) and soy sauce or gluten-free tamari sauce.
Once the mushrooms are cooked through, and the onions are soft, it's time to add the beef back in.
Add some green onions, quickly stir fry a bit longer….
And done.
If you're looking for the perfect holiday gift for your favorite cook, this is it! Get it while it's on sale.
Hammer Stahl 4qt Saute Pan Giveaway
---
Giveaway Ends: 2018-02-28
Number of Prizes Available: 1
Max Entries Per Day: 1
** Please add hello@steamykitchen.com to your contacts to help prevent email notifications from going into spam folders.
Never miss another Steamy Kitchen Giveaway!
Subscribe to our Giveaway Notifications
to keep up to date on all of our giveaways! We will even throw in a special gift when you confirm your subscription!
List of
Past Winners.
DISCLAIMER & OFFICIAL RULES: The giveaway product is provided by the sponsor of the giveaway and will be shipped from them directly. No purchase necessary to enter or win. Sweepstakes is open only to who are 18 years of age at time of entry. Steamy Kitchen and its sponsors only ship physical prizes to United States and to Canadian addresses. However, Steamy Kitchen reserves the right to provide an Amazon gift card for the value of the prize in lieu of shipping physical product due to shipping costs and logistics. Steamy Kitchen assumes no responsibility for late or misdirected entries due to SPAM, technological, or e-mail filtering issues or for prizes lost in transit. Winner will be notified by email, and must respond within 5 business days, otherwise winner will forfeit the prize and another winner may be drawn. For this giveaway, entrants can enter the designated number of times per e-mail address per day. The use of any system, robot, agent, or software to automatically submit entries in connection with this Giveaway is prohibited. See rest of the Official Giveaway Rules.