Grass Roots Cooperative review – Grass Roots is a meat box delivery service, including both PROs and CONs of the service. I'll tell you my favorite cuts and the ones I'd pass on.
They've given us a discount code for our amazing readers to use ….$50 off $100 order (use the code STEAMY during checkout.) 
We received a Grass Roots Cooperative meat box – including beef, chicken and pork. This is our experience, from delivery to finished dish, with our thoughts the quality of meat.
What is Grass Roots Cooperative
Grass Roots is a  farmer-owned, 100% customizable monthly meat box subscription. All animals are pasture raised, GMO-free, and free of antibiotics and hormones. The subscription service is month-to-month (cancel anytime).
Grass Roots Vision: "At Grass Roots Co-Op, our goal is to authenticate the integrity of your food. We believe it shouldn't be so difficult to understand what you're eating and how it was raised. And that's what sets us apart—ridiculously high standards and transparency from our pastures to your plate."
Grass Roots Cooperative Review
PRO: The packaging arrived via FedEx with 100% biodegradable packaging – even the foam insulation is made from corn. You can dissolve or compost the insulation. Plenty of dry ice was included.
Inside the re-usable grocery bag was my delivery. Everything was frozen rock-solid.
Our box contained enough meat for our family to enjoy for 2-3 weeks. We're big meat eaters! I customized our box to include exactly what our family enjoys.
PRO: This is one of the best parts of Grass Roots – instead of pre-selected boxes with meat that you might not enjoy, you hand-pick each and every item yourself from their website.
Our selection included a little of everything: bacon, Italian sausage, ground beef, whole chicken, beef shank, beef short ribs, skirt steak, NY strip steak, ribeye, chicken thighs.
PRO: Look how thick this ribeye steak was!
CON: We ordered 2 steaks, one was this thick, and the other piece was more than half-inch thinner. Normally, I'll cook 2 steaks to feed our family, but cooking both would require different cooking times.
EH…..: The bacon has good meat to fat ratio….but it could be better. Still a lot of fat!
PRO: Each package includes:
Name of the farm – Falling Sky Farms in Leslie, AR
Pack date, Lot# to identify the animal, and processor company.
Each meat is traceable.
We set aside meat for the next few days to refrigerate/defrost…and kept the rest frozen. The kids chose bacon (for breakfast), Italian sausage (to serve with pasta), and a whole chicken (to make the famous Hainanese Chicken Rice)
Grass Roots Cooperative Chicken
PRO: WOW. This is a photo of the chicken right out of the package. Notice how clean and smooth the chicken is.
In contrast, let me show you what a regular supermarket chicken looks like with dead skin and little feathers.
There's a massive difference in quality!
PRO: Grass Roots chicken is air-chilled, not water chilled. Most supermarket chicken is water bath chilled, meaning a bunch of raw chickens dunked into a vat of chlorinated water. The chicken absorbs the water, which is why it's packaged with absorbing spongy rectangle. Air-chilled chicken is hung in a cold room with circulating air, no water added, which greatly enhances flavor and produces crisper skin (if you are roasting).
We made Chinese Hainanese Chicken Rice, one of the most popular dishes in Singapore. The chicken is simply poached, whole. The poaching broth is used then to boil the rice, and the remaining broth is lightly salted and enjoyed as soup. This dish showcases the quality and flavor of the chicken.
The whole chicken is added to a large pot with a few green onions, ginger slices and garlic cloves. The chicken is gently simmered for about an hour.
The result was astounding. The chicken meat was the best tasting I've ever had. Tender, juicy chicken with just the right amount of firmness. Look at the meat! Beautiful texture.
Grass Roots has given us a discount code for our amazing readers to use ….$50 off $100 order (use the code STEAMY during checkout.) 
Grass Roots Cooperative Beef Review
With the beef shank, we used a slow cooker – lots of veggies, red wine, beef broth, canned tomato.
Several hours later, dinner was served with mashed potatoes. Incredibly beefy, tender and flavorful.
CON: I don't have a picture for you, but the Grass Roots short ribs are sold in 1.5 pound packages. It's hard to judge how many packages you will need to buy to feed your party…half of the weight is due to the bone. In our package, we had 3 pieces with large fat bones and little meat, which meant we didn't have enough for our family.
Grass Roots Cooperative Steaks Review
PRO: The steaks from Grass Roots Cooperative is all grass-fed. Much of the regular supermarket grass-fed beef is very lean, chewy and a bit gamey tasting. Not so here. The ribeyes that we got were well marbled, beautifully trimmed and just enough fat for intense flavor. The ribeye steaks are sold in 1 pound packages for under $20.00.
CON: Personally, I love thick steaks, but this was just a little too thick. At 2″ thick, it is more difficult and takes much longer to cook for a perfect medium-rare steak. As I mentioned earlier, the other ribeye was a little thinner.
PRO: This was some of the most flavorful steaks we've ever cooked. Because of the thickness difference, I decided to sous vide the steaks with a bit of butter at 135F.
Do you know what sous vide is? It's THE BEST way to cook steaks! It's how the restaurants do it 🙂 Here are my two sous vide machines – the Oliso Sous Vide is the one I use most often, since it's on my counter. But the Joule is my favorite because it's so small and I can use any pot.
After 2 hours, it's perfectly medium rare. It doesn't look that appetizing right now…..but just wait.
Pat steaks dry and get a cast iron pat smoking hot.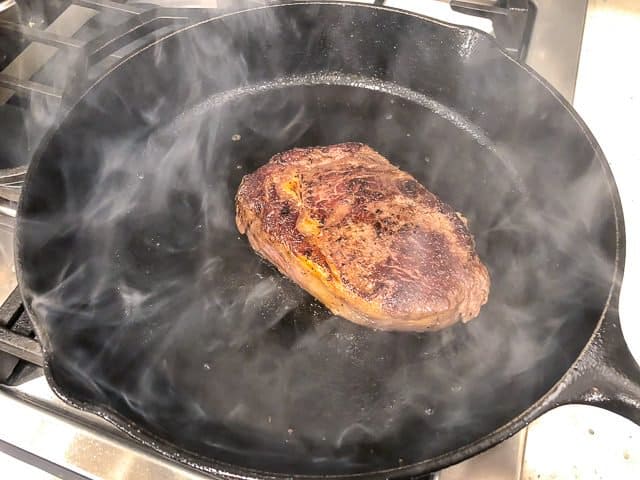 Sear both sides, rest for a few minutes and DONE. Perfectly medium-rare grass-fed, pasture-raised steaks.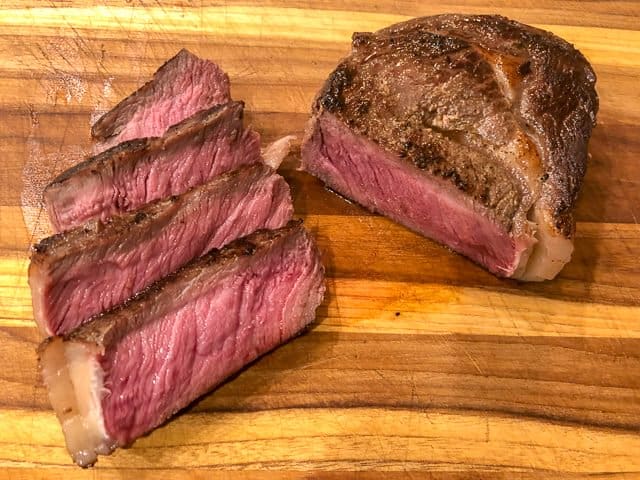 PRO: The FLAVOR! After years of grain-fed supermarket steaks at home, we forgot what real beef tasted like. Clean, pure flavor, intense beefy flavor, yet still so tender with a lingering buttery finish. I have a difficult time describing flavor of beef, even though years ago, we dived deep into artisan steak tasting with expert Carrie Oliver.
Why is grass-fed so much healthier and tastier than grain-finished beef? For regular supermarket steaks, cattle are finished with antibiotics, hormones and a combination of grains to fatten up the cattle for better marbling, increase the weight for slaughter and decrease costs. Grain-fed cattle "finish" must faster than grass-fed. Faster to market means less cost for the rancher. But that also means bland-tasting beef that is so pumped with hormones and antibiotics.
Just a note though: grain-finished, conventional beef is fattier, and the fat contributes to "juiciness" and perceived "flavor." However, there is a big difference between flavor coming from fat vs. flavor coming from the quality of the meat itself.
Final Thoughts on Grass Roots Coop
Ordering good quality meat is more expensive. Just expect that. But here's what I can say for sure. The cheapest cut of pasture-raised, forage-fed steak from Grass Roots will taste so much better than the most expensive supermarket, conventional, feedlot steak. I say the same about my local, small butcher here in Henderson, Nevada. I'd rather buy the cheapest cut of sirloin at The Butcher Block, down the street, than the most expensive, prime supermarket steak at Vons or Albertsons Supermarket. I'd rather support the small rancher who cares about animal husbandry and producing the best quality beef for customers vs. a large corporation that focuses on time to market, fattening up cattle for increased profits.
Chicken. OMG…..ORDER THE CHICKEN…..a whole chicken at Grass Roots is $17.25. Yes, it's more expensive than your local Wegmans or Smith's conventional chicken. But the quality of what you get is so worth it. Pastured, happy chicken, raised with care on a small farm is SO MUCH BETTER than chicken grown in a small cage in a concrete-floored warehouse. Worth it, for sure.
As for the pork from Grass Fed, it's good. I'm not a big pork eater outside of PORK BEELLLLLYYYYY and bacon (ok, same thing). So, I'm not the best judge of this category. The bacon from Grass Roots was good, not exceptional, but really good.
Now, let's talk about availability. I'm bummed that some of the cuts that I really love are not available. They've sold out! I've actually hesitated on writing this review for several months, because there is meat that I want you to try, but the site says it's out of stock. Frustrating.
I asked Grass Roots directly about the out of stock items, here's what they said:
"Seasonality:  Grass Roots only raises its animals on pasture – this means that meat, like a lot of fruit and veggies is seasonal.  During the winter the growth slows and there are no new calves so coming out of that season we are low on inventory.
Small Batch farmers:  Grass Roots is committed to raising animals in the most humane way possible and to regenerating the land – this means we graze in small herds to minimize impact on the land."
Great news – the chicken is BACK IN STOCK. And…..they gave YOU a discount code for $50 off order of $100 or more. That's half off. Order a whole chicken and some steak!!! I recommend the whole chicken and the ribeye. The kids said the Italian sausage was amaaaaaazing. My opinion on the sausage – it was okay, not something I'd splurge on.  Get the beef shank if you have a slow cooker. Get the short ribs if you have an Instant Pot or slow cooker (but make sure you order more than 1 package to feed more than 2 people). As I mentioned earlier, I'd pass on the bacon. I've not tried the pork chops. BUT THE STEAAAAK AND CHICKEN.
$50 off Coupon
Grass Roots Cooperative Giveaway
For one lucky person, we're are giving away $100 gift certificate to Grass Roots. They only ship to U.S. (for my Canadian friends, if you win this giveaway, we will send you $100 Amazon Canada gift card)