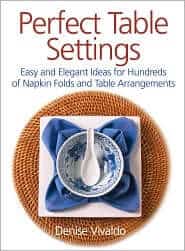 Perfect Table Settings book by Denise Vivaldo. The book that was sent to me has a different cover design, but is the same book.
An easy guide to the art of napkin folding and creating beautiful table settings from a seasoned professional.
This comprehensive do-it-yourself guide is fun and demonstrates in great detail the art of easy and elegant napkin folding. The author also provides festive, imaginative and inexpensive table decor ideas, featuring everything from favors and linens to centerpieces — she even shows readers how to create the perfect buffet setting.
From the casual to the elegant, more than 250 full-color photographs illustrate napkin folding how-tos and place-setting ideas. All the projects are graded for beginners, intermediates or advanced, providing a myriad of ways for all readers to express their creativity.
The book is divided into four parts:
Part one features 100 napkin folding ideas and dozens of suggestions for incorporating napkins into place settings and decor.
Part two includes table-setting ideas that enhance various menus — everything from a garden brunch to location parties such as a beach or mountaintop. Diagrams and photos clearly illustrate table settings in detail.
Part three provides ideas for centerpieces and favors. There are dozens of classic centerpiece designs as well as both non-floral and edible centerpieces. The author also includes party favor ideas for all occasions, from fun to romantic to kid's parties.
Part four shows readers how to incorporate decor ideas (props, linens, flowers) into an event. Whether planning a buffet, an hors d'oeuvre station or a barbecue, it's all covered in easy-to-follow detail.
Denise Vivaldo is a seasoned food professional who has catered more than 10,000 parties. She founded Food Fanatics, a catering, recipe development and food-styling firm that has catered the Academy Awards, the Governor's Ball as well as many Hollywood wrap parties. She has written seven other books and lives in Los Angeles, California.
Here's a sample page from the book – I think this would be perfect for Christmas dinner, I'd put an ornament as a party favor for the guests instead of the gold star.