As avid gardeners and professional recipe developers, you can imagine the amount of food that is packed in our refrigerator!
Our boys love to buy school lunch (I know, all that nasty beige colored food isn't good for them), but a few times a week, we pack a lunch for them to take to school.
We've been using the Bentgo for the past few weeks and it's changed not just the way we organize our lunches, but also what we pack in their lunches.
Rather than just the ordinary squished sandwich and a bag of chips, the Bentgo Kids opened up food options that I would have never been able to do without fuss. The Bentgo Kids box is leakproof and has built in lids that keep food items separate.
No more spilled sauces, and no more lids to remember and keep track of (my kids are great at "accidentally" throwing away plastic lids!) The box is microwave safe, dishwasher safe and BPA-free.
We can now pack pasta with marinara sauce…along with fruit and cookies, all in one box. It's made our lunches more convenient and practical.
~ Jaden
Bentgo All-in-one Stackable Lunch Box Solution-Sleek Modern Bento Box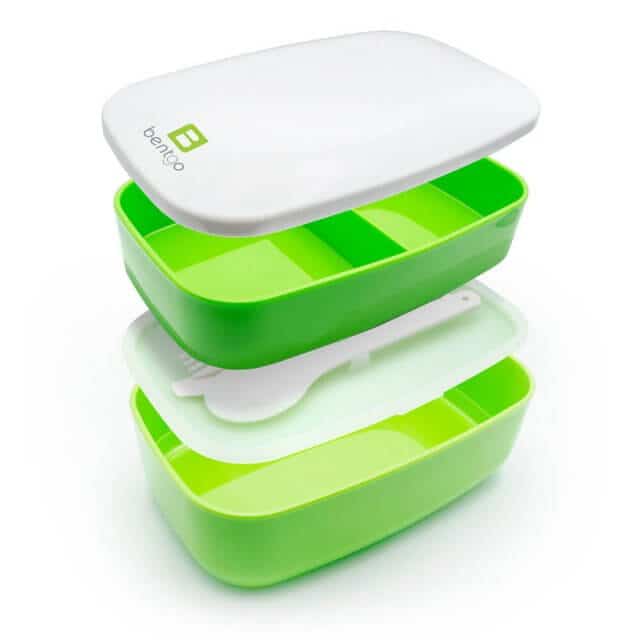 At Bentgo, we encourage healthy and hassle-free lunch by providing an easy-to-use and modern alternative to portable meal storage. Bentgo is the sleek lunch box solution for school, work, and travel. No more brown-bag lunches or disposable plastic and paper containers. With Bentgo, packing and transporting food is quick, simple, and eco-friendly.
Bentgo includes two stackable containers with lids, built-in plastic silverware, and a secure strap for easy transportation. Not only does the Bentgo look awesome with its colorful and sleek design, it is also microwavable, dishwasher safe, & BPA-Free.
Different sized compartments allow you to pack all sorts of foods in healthy portions and cut down on lunch expenses. Pick, pack, and enjoy your food to go!
Bentgo Kids Lunch Box
Bentgo Kids is an innovative bento-style lunch box designed exclusively for active kids on the go. What makes Bentgo Kids so much fun is the endless combinations of nutritious foods you can pack in the five convenient compartments. The largest compartment is the perfect size for a half sandwich or salad. Three mid-size compartments are great for fruit, veggies and other snack favorites. The smallest compartment is sized just right for dipping sauces.
Enter the Bentgo Giveaway:
Giving away 1 Bentgo Stackable Lunch Box + 1 Bentgo Kids Lunch Box