Grow your very own live, raw superfoods at home. And they're easily grown indoors on a windowsill in as little as 5 to 14 days! Your very own superfoods garden – right on your windowsill.
Why Eat Organic Sprouts?
They can contain up to 100 times more natural enzymes than raw vegetables and fruits
They're a source of sunlight energy, or biophotons, for your body's processes
You can get up to 20 times the vitamin content in the first few days of sprouting
The quality of protein is higher when sprouted
The fiber content is higher when a seed is sprouted
You get more essential fatty acids in a sprouted seed than the vegetable
Minerals, such as calcium and magnesium, bind to protein and become more usable
Sprouts have oxygenizing and alkalizing effects on your body
Sprouts are the ultimate locally grown food, and since you grow them right on your windowsill, you know EXACTLY what you're eating!
 Is this easy to grow? YES!
Are easy to grow indoors
Can be grown year-round in any home or apartment, even when it's cold and dark
Require NO special knowledge, expertise, or gardening skills
Don't need expensive, hard-to-find equipment
Are fun for the entire family to grow – and eat!
Read our step by step tutorial: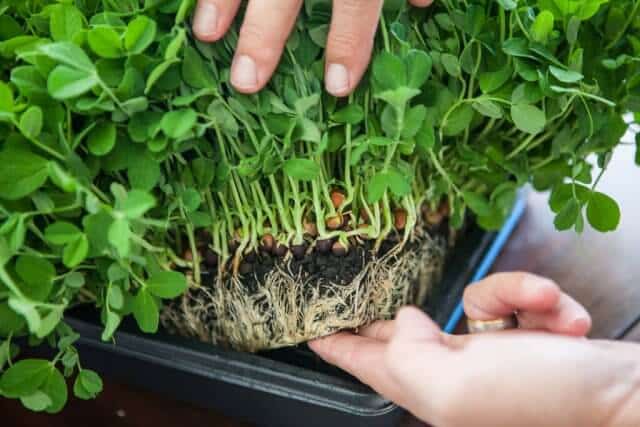 Cook Chinese Pea Sprouts Recipe:
Grow Microgreens Kit Giveaway
Sponsored by Mercola
We are giving away several Growing Kits from Mercola. Includes:
(1) Broccoli Sprouting Seeds
(1) Pea Shoots Seeds
(1) Sunflower Shoots Seeds
(1) Sprouting Tray Top (10″ x 20″)
(1) Sprouting Tray Bottom (10″ x 20″)
(soil not included)