When I need to steam just a portion or two of food, I'll use the microwave. It's fast, efficient, and doesn't require me to turn on my stove. I've used the Prep Solutions microwave steaming set cooking rice in the microwave, and the Pampered Chef microwave cookware, but because both are plastic, they've been scratched and warped from frequent use and dishwasher cleaning.
Magic Chef Microwave Cookware Review
Magic Chef just launched their new microwave cookware (Magic Chef is best known for their line of microwave appliances). The cookware is made of durable glass, BPA free silicone lid and BPA free basket.
The basket has a solid bottom, which is great for steaming fish without losing any of the flavorful juices. The lid is vented, which allows just the right amount of steam to escape during cooking. This is a great feature – I've had too many exploding lids in the microwave to count!
Here's what I like about the Magic Chef Microwave Cookware Set:
Made in the USA
Glass and silicone, not cheap, flimsy plastic
Doubles as storage container.
Glass bottom is oven safe up to 425F. So, the set is actually triple-duty – use the bottom to bake.
Great for reheating foods. Some leftovers, especially meats and seafood don't microwave well and become dry and tough. Adding a couple tablespoons of water to the bottom of the cookware will reheat the food with steam.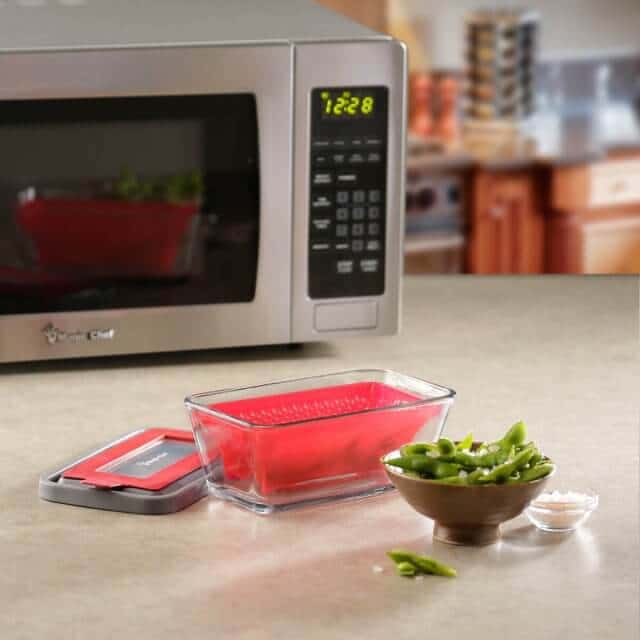 Here's what needs improvement:
The Magic Chef Microwave Cookware only comes in 2 sizes – 6 cup and 4 3/4 cup (which looks like a loaf pan). I wish there were more shapes and sizes. I'm looking for one just a little bit bigger and taller than the 6-cup.
There are only a couple of retailers carrying the product – Walmart, Jet.com, Sears and QVC. Of all places, QVC has the best price – $27.50 for both sizes. They say it's a 6-piece set, but that's a little misleading – each piece comes with a base, lid and basket.
Magic Chef Microwave Cookware Giveaway
Magic Chef provided unit for honest review and a giveaway.