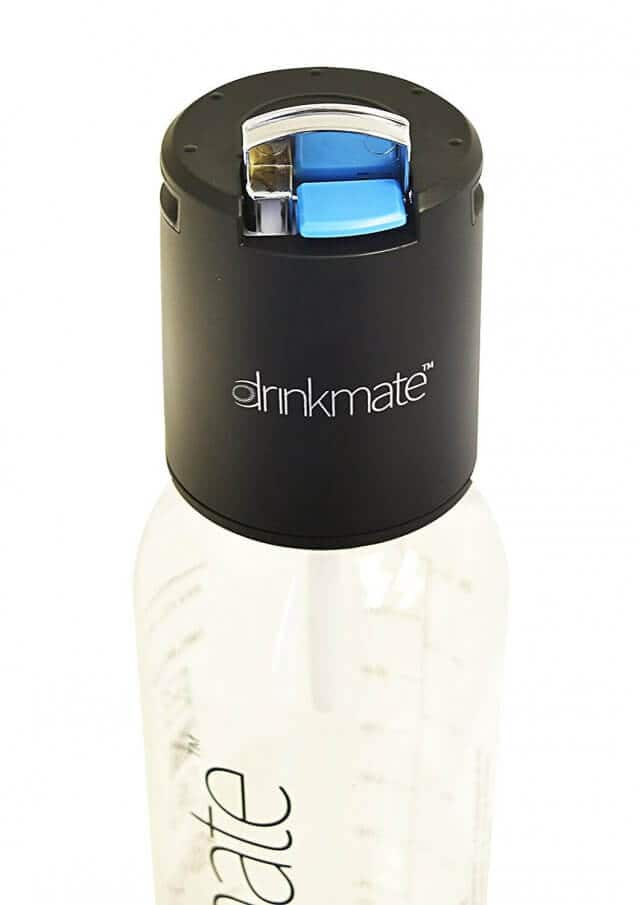 We're reviewing the Drinkmate Carbonated Soda Maker – our review includes both PROs and CONs of the product.
Drinkmate Carbonated Soda Maker Review
I've had a SodaStream Penguin for the past 7 years, and decided to give it away during our move to Nevada. It was a bulky gadget, and I was afraid the glass bottles would break, and the CO2 would be dangerous to transport cross country. After moving, I bought a Mastrad PureFizz soda maker that stopped working after a month (I wasted so many of these little bullet shaped CO2 cartridges!) Actually Mastrad's product was so bad, I don't think they even sell it anymore.
Drinkmate Carbonated Soda Maker is a little different from the current bestselling carbonator, the SodaStream . First off, the Drinkmate will allow you to carbonate any beverage, not just water.
Wine – to make sparkling wine
Juice – any type of juice for a healthier alternative to soda
Beer or soda – bring flat back to life
Fresh squeezed orange juice/strawberry juice – so fresh!
Make fizzy cocktails
I asked Drinkmate what makes their device so different from the SodaStream – how come their product can carbonate ANY beverage (vs. SodaStream can only carbonate water.) Here was their answer:
"The difference is the pressure process and how that is controlled. SodaStream doesn't have any way to control the amount of pressure that is released. Drinkmate features 5 valves that allow for fast and slow release of the pressure. This is the key to control the pressure and the new technology that allows to carbonate any liquid."
Try carbonating orange juice in a SodaStream and you'll end up clogging up the gadget with sticky, sweet OJ. Or worse yet, orange walls in your kitchen. The DrinkMate's special lid allows for regulated release of the CO2.
PRO: Carbonates any beverage! Fresh strawberry juice was amazing. I added the strawberry juice and some water, fizzed it up and served with mint garnish.
CO2 Tanks
DrinkMate's machine can use SodaStream's CO2 cylinder, which is found in so many stores, like Bed Bath & Beyond, Walmart and Target.
PRO: Easy to find replacement cylinders.
DrinkMate plastic bottle
The Drinkmate is a countertop appliance, like the SodaStream, and includes a sturdy plastic bottle and special pressure regulated attachment. Package also includes a cap for the bottle to store your beverage.
CON: I really prefer glass bottles over plastic bottles. Plastic tends to transfer strong flavors. I carbonated some tomato juice for a fizzy bloody mary cocktail, refrigerated half a bottle for a few days, and had a hard time getting the tomato flavor out of the bottle. But, I'm a strange one for fizzing up tomato juice! FYI, if you use thick bloody mary concentrate, dilute it with water first.
PRO: The gadget is very lightweight, making it easy to lift in and out of storage.
A little confusion
On DrinkMate's website and marketing materials, there are so many different names: DrinkMate, iSoda, i-Drink. They even have a hand-held portable carbonator (what a cool product!) on sale at Amazon, but not on their website.
PRO: Rest assured, this company, called i-Drink Products, is based in Ann Arbor, Michigan, and has been in business for 15 years and is the "second largest manufacturer of home and portable carbonators in the world."

It's a fun carbonator to have – we're exploring different beverages to carbonate. Some worked, like the grapefruit & thyme gin and some fell flat (heh) like the bloody mary. It comes in 3 colors – black, red and white. The kids are having a blast making their own "sodas" with store-bought apple juice and lemonade. You can even carbonate sports drinks! Nathan, my 12 year old, loves it and gives DrinkMate "two very enthusiastic thumbs up."
Thank you for supporting Steamy Kitchen!
Even if you don't buy the product shown, starting your Amazon shopping here helps us small family business. We get a small commission from Amazon that helps keep this site running free!

DrinkMate Giveaway