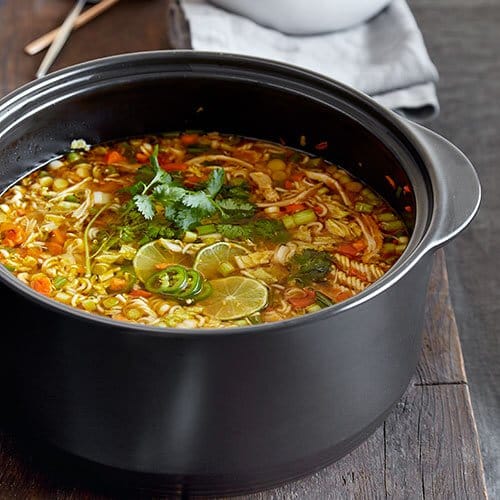 We tested the Pampered Chef Rockcrok Dutch Oven XL ($250) our review features both PROs and CONs of the product.
Pampered Chef Rockcrok Dutch Oven XL Review
This is a big boy, for those who regularly host big parties or has a massive family! The Rockcrok holds 8 quarts, is about 11″ wide. It's made from a clay, and surprisingly lightweight.
The pot itself is heat-resistant to 752F. Designed to be incredibly versatile – you can sear, braise, simmer, slow cook, fry, boil, bake, broil, microwave (but only at 30 second increments, and you need to let it cool in between).
We tested the Pampered Chef Rockcrock Dutch Oven in the microwave, on the stove and in the oven.
Glass Lid
Rockcrock comes with a thick glass lid, that's only heat resistant up to 400F.
PRO: The glass lid lets you continuously check in with the food, without opening the lid.
CON: The handle of the lid is glass, as well. It's really hard to get a good grasp on the handle, especially, if you are wearing oven mitts. The little handle doesn't get that hot (glass is a poor conductor of heat), however glass gets slippery when wet – so you really have to be careful with not having damp hands or letting condensation get on the outside of the lid.
You have to remember that the glass lid is only heat resistant up to 400F, while the pot itself is 752F. I'm not sure the last time I needed to cook at 752F, but it's just good to remember.
Stove to table to refrigerator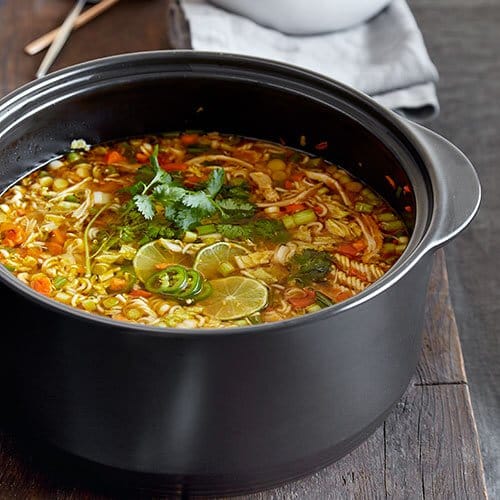 PRO: It is a good looking clay pot, with a matte black finish. Can go from stove to the table, and the clay material keeps the food hot.
After the meal, this same pot can go to the refrigerator or freezer. It can also go from refrigerator back to stove, without having to let it sit out to de-chill first.
I have a very expensive enameled cast iron dutch oven that doesn't like going direct from refrigerator to stove, and it takes at least 30 minutes to rest.
Size and Shape
PRO: A big pro – it's not that heavy! When we first got the pot, I was worried that it was going to be heavy. Nope!
It's a generous size, I like that it wide, and not too tall. Pots that are too tall are difficult to cook in.
CON: The handles of the pot are so small. Thick, awkward oven mitts will have a hard time getting a good grip on the handles. Best way is to cup the handles and keep your thumb inside the pot for stability.
Making Soup for 10 with Leftovers
Leftovers can make a delicious, healthy soup. After carving the meat off the turkey, chicken or ham, we keep the bones to make another meal.
Add the leftover carcass or ham bone, with a half onion into the Rockcrok. Cover with water and bring to simmer for 15 minutes, to first make the broth. Remove the bones/onion and discard.
Now you have broth!
Add in any pasta (we love orzo), carrot and celery chunks, bring back to a simmer. Cook for 10 minutes on low.
Add in a fistful of fresh kale leaves.
And how about some broccoli florets?
Stir in any leftover hunks of turkey, chicken, ham, etc.
Cook until broccoli is tender, just a couple of minutes is fine.
By now, the rice is fully cooked. Turn off heat and swirl in just a tablespoon of good olive oil.
Dinner is ready, and it goes straight the the table.
Price of the Rockcrok Dutch Oven
The pot can only be purchased at Pampered Chef. Look up your neighbor consultant or buy online.
The price of the XL, 8-quart size is $250, though there are smaller versions that are cheaper:
CON: The 8-qt XL pot is pricey at $250. I think the smaller 4-quart dutch oven is a good buy at $139, it's a pan that I would use every week for everyday dinners.
More thoughts
PRO: I love Pampered Chef products. Some of our Pampered Chef products are over 13 years old and still performing as if new. My favorite products are the ones I still use every single day: the 1-cup prep bowls with lids, 2-cup prep bowls with lids, classic batter bowl with lid and the small batter bowl with lid. Notice a theme?!
Pampered Chef also stands behind its products, I've contacted the company about my malfunctioning mandolin slicer, and they sent me a new one without hesitation.
Why we love the generous size of the Rockcrok XL – we entertain at least once a week, and love using it for our Sunday family meal (party of 8!) for soups and stews. I have also used it to make a giant loaf of No Knead Bread, the glass lid lets me peek at how the bread is progressing.
Pampered Chef Rockcrok Dutch Oven XL Giveaway
Pampered Chef has provided a Rockcrok Dutch Oven XL for a this giveaway.