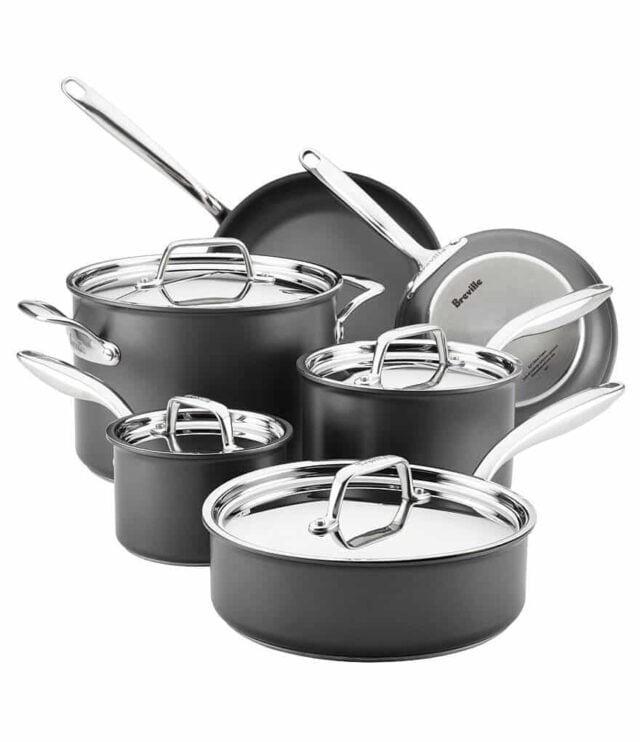 Review of the Breville Thermal Pro Anodized Cookware 10-Piece Set, including both PROs and CONs.
Breville Thermal Pro Hard Anodized Cookware Review
We tested the 10-piece set from Breville for two months in the Steamy Kitchen. The set includes:
8.5″/22cm Open Skillet
10″/25 cm Open Skillet
1.5qt/1.4L/14cm Saucepan with lid
3qt/2.8L/18cm Saucepan with lid
3.5qt/3.3L/24cm Sauté pan with lid
8qt/7.6L/24cm Stockpot with lid
What is the cookware made of?
This cookware is made of an aluminum core with anodized aluminum surface, which provides a non-stick, non-reactive surface.
The non-stick surface is the result of anodizing the aluminum, a process that was developed by Calphalon in the 1960's. It's 100% PFOA-free, can withstand high heat, scratch resistant and is very durable. The hard anodized cookware is my choice in the kitchen, if I'm looking for easy to care for, non-stick options. Plus, you can use metal utensils with the cookware and  it's dishwasher safe.
Cookware for cooks who cook
It sounds really silly to say, but some cookware manufacturers really don't take into account how people cook, what tools they use, while cooking.
What I love about Breville, is that their cookware, both this set as well as the Breville Thermal Pro Stainless Steel line, is designed with cooks in mind.
Most cooking tools have rounded ends. The shape of Breville's pans are rounded so that you can easily mix, scrape, and stir.
The lip of the cookware is also flared, to make pouring drip-free. I've splattered my share of tomato sauce all over the countertop!
Fat Handles
My very first high-end cookware that I ever bought was heavy-duty but had the skimpiest handles! It took two hands to lift a skillet full of food. Not only because the skillet was heavy, but also because I could never get a confident, sturdy grip on the stick-straight handles that dug into my palms.
The handles of the saucepans and the skillets are generous, ergonomic and well balanced…but not heavy. I *think* the handle is hollow inside, to keep the handles cool and to keep the handles light.
Heavy Base
The base of the Breville Thermal Pro Hard Anodized cookware is thick magnetic stainless steel, which means it's suitable for gas, electric and induction cooktops.
The point between the base and the cookware is a little hard to clean. Any drips or grease from the pan slide down and settles in that spot. You really have to give it a detailed scrubbing to keep the pans looking new and clean.
If you have a habit of leaving the pan with the handles out…*ahem..my son, Andrew…Breville's heavy base keeps the pan stable and balanced, in case you accidentally knock the handle while walking by, or a dog's tail whacks it.
Each pan tells you what it is!!! Holy moly, why don't more cookware manufacturers do this?? Some recipes call for a specific pan size. I love this!
Rivets are flush
This is one of my favorite features. Do you have cookware with knobby rivets? Food gets stuck in there, it's so hard to clean and the rivets just get in the way.
These rivets are flush.
FLUSH!!
Sizes of the pots n' pans
Cookware manufacturers always tell you the width of the pots, and the volume it holds, but they never tell you how deep the pots are (well, I guess you could do some fancy math, but math's not my thing.) The stockpot is almost 7″ deep, good enough for boiling pasta, making soup.
The saute pan is almost 3″ tall (from this angle, it looks taller, but that's the lip of the pan).
I like that it's a little taller than many of my saute pans. Here's why: if you don't have a wok, you can always stir fry in a saute pan with high sides. The sides prevent the ingredients from falling out as you stir, flip, and stir-fry.
I'm stir-frying ground beef, onions, peas, carrots and corn with a little bit of oyster sauce to serve with crisp iceberg lettuce cups.
The Breville Hard Anodized saute pan is TALLER but SMALLER in diameter than the Breville Stainless Steel saute pan (here's my review)  Personally, I would love the Hard Anodized saute to be a little bigger (wider). The extra space means you can sear 4 chicken breasts without the meats touching, with plenty of room to add garlic cloves too.
Non-stickkiness of the pan
Fry an egg with just a quick spray of cooking oil.
Slides right off (crap, I overcooked my egg yolk)
Lids handles for Barney hands
Tall hands on lids so that you can firmly grab with oven mitts on.
Conclusion
It's hard to find anything that I don't like about this Breville Thermal Pro Hard Anodized Cookware Set. And guys, you know me…I'm brutally honest in my reviews. My favorite cookware set in the kitchen is still the Breville Thermal Pro STAINLESS STEEL Clad set, because:
I like shiny
I only need nonstick in a frying pan (I like using it for eggs), but not any other pieces
I like the wider saute pan for cooking for 4 people
BUT – the Hard Anodized set is 10x easier to take care of and clean. Both are dishwasher safe (though I prefer to hand-wash my high end pans), but the stainless steel set requires Barkeeper's Friend and a good scrubber. I don't do the dishes in my house (I cook, husband/boys clean), so I'm just going to be honest and tell you that HAHA! But I think the stainless steel set heats more evenly, heats up faster.
Thank you for supporting Steamy Kitchen!
Even if you don't buy the product shown, starting your Amazon shopping here helps our small family business. We get a small commission from Amazon that helps keep this site running free!
Breville Thermal Pro Hard Anodized Cookware Set Giveaway
We're giving away a 10-piece set!