This Easter Recipe Roundup will satisfy all of your Easter brunch and dinner cravings! I've rounded up some of my favorite recipes for this Easter in one post!
Call them Easter recipes, call them Spring recipes. Whatever you want to call them, you'll be sure to please your family with this great list of delicious dishes!
Easter Brunch Recipes
Eggs from our hens and a giant zucchini from the garden went into the Frittata with Zucchini. We added a super-ripe heirloom tomato, also from our garden and finished it off with goat cheese crumbles.
Easy, delicious and minimal clean up – perfect for an Easter brunch!
Really, only one mixing bowl. All of it comes together so quickly and effortlessly! This foolproof method only works for savory cheese souffle – not the chocolately sweet souffle.
These crepes are sweet, tart, drippy, crisp and oh so delicious!
This is an impressive dish that really only takes 10 minutes of your precious time to put together.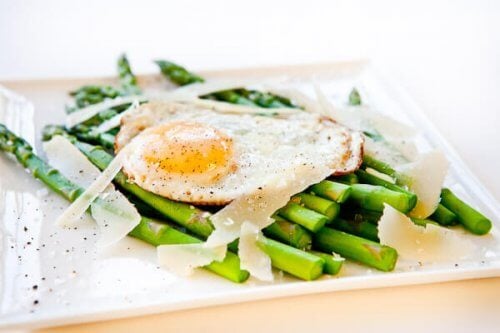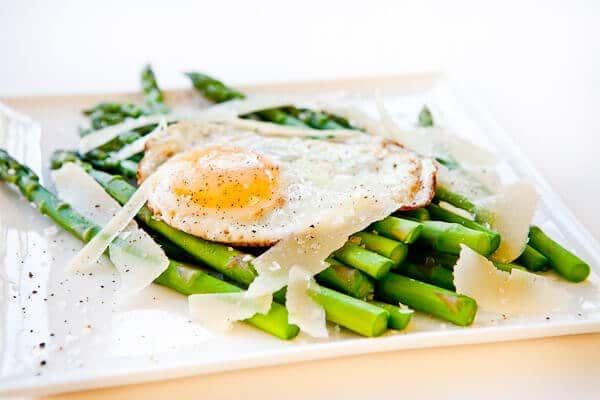 Easter Side Dishes
I know people are very passionate about how they like their mashed potatoes – there's the soft, smooth 'n creamy camp and then there's the hearty, full textured camp. Me? I like 'em full flavored, skin-on and with roasted garlic.
To please as many people as I can, I'll give instructions for both the smooth/soft/creamy and the hearty/skin-on mashed potatoes. You can decide what you want to make!
Learn how to make the simplest, most elegant accompaniment to a cheese plate with Oven Roasted Grapes on the Vine.
This Roasted Tofu is crunchy on the outside and creamy smooth-soft on the inside, with a wonderful flavor profile – slightly nutty, slightly sea salty. The browned bits are shatteringly crisp from roasting in the olive oil. An awesome vegetarian side. Complete with a host of deliciously roasted vegetables, like sprouts, carrots and cauliflower.
This warm bacon potato salad is a twist on a traditional side dish and made with roasted potatoes and no mayonnaise. Quick to make and full of texture and bold flavors, this easy to make potato dish is perfect to serve with grilled meats and fishes. It's always a real crowd pleaser!
Roasted Brussels sprouts in a sweet chili glaze, an awesome side! It'll convert any brussels sprout haters. They're super-quick and simple to make and always so delicious.
A simple and delicious roast cauliflower recipe featuring bacon and garlicky goodness. A super side dish!
This recipe for Asparagus Gratin originates from Cook's Country Magazine, May 2011 issue. What I found fascinating about this recipe: instead of just discarding the woody asparagus ends, it is used to make a flavorful quick broth that will be used to create the sauce in the recipe.
The creamiest mashed potatoes ever! TWO ingredients.
Easter Main Dishes
The glaze that I love most are sweet and fruity. This recipe features peaches, both in the glaze and also to serve alongside the ham. It's a light, simple and happy plate!
Get this – this Easter ham is 5 ingredients + the ham. And it will be fabulous. I promise.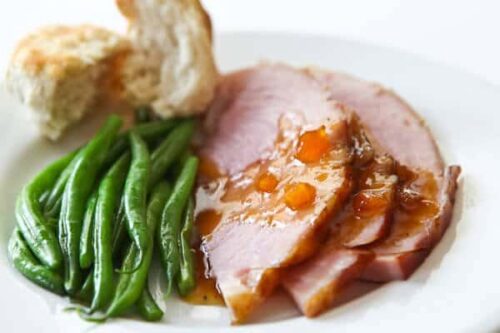 This delicious Glazed Ham recipe is perfect for Easter and only uses 5 ingredients! Easy to make, with a glaze that is rich and tangy, perfectly complementing the ham – a match made in heaven!
Easter ham dinner for 2 people. My in-laws are always asking for recipes scaled down for two, so this Easter Ham Recipe with Blackberry Rum Glaze perfect one for them and it's delicious!
Easiest way to make foolproof roast chicken is to spatchcock it. The backbone is cut out of the whole chicken so that the chicken can lay flat while cooking. Thus cuts down the cooking time and helps the chicken roast evenly. Carving the chicken is much easier too, you can even carve it with a small knife.
I don't know about you, but cooking a chunk of meat larger than the size of my head sometimes intimidates me. How do I get the thing to cook evenly? Do I need to rotate it? Breast side up or down? Will it implode like Clark Griswold's turkey on Christmas Vacation? Ah, I have the perfect Roast Split Chicken recipe for you..the chicken skin thin and crisp, the meat succulent and the sauce divine. Best of all, its so easy!
Prime Rib seems so intimidating to cook, but in all honesty, it's easier than roasting a turkey. There's no brining, stuffing a cavity, flipping halfway or injecting with marinade. Cooking the most tender Prime Rib only uses one cooking rule – slow 'n low. All you need is time.
Easter Desserts
Breakfast or dessert? We're not sure, but either way this Nutella Bread pudding is delicious. It's easy to make and packed with chocolaty, nutty flavors. Perfect for Thanksgiving or any time, really!
I am pleased to present to you, my Negative Calorie Chocolate Cake. Never before in the history of desserts has there ever been such an luscious cake that is this good for your inner chocoholic self.
I hope you enjoyed these easy Easter dinner ideas that the whole family will love! Unlike Thanksgiving, where you pretty much know which dishes you'll serve every year, Easter can be flexible when it comes to the menu. I've tried to mix it up a bit so you can enjoy more variety this Easter.
And these dishes are not just for Easter, they are great for any time!
Have you tried any of these Easter recipes? Feel free to leave a star rating and I'd love to hear from you in the comments below!