If you're looking for some awesome appetizers, look no further! Whether you are after authentic Chinese spring rolls or some slurp-tastic Japanese Miso soup, you won't be disappointed with these delicious Asian Appetizers!
Asian Appetizers – A World Of Amazing Food!
Asian cuisine is some of the most popular in the world, and for good reason! Not only does Asian cuisine serve up incredibly tasty food, packed with flavor but it's also incredibly varied. From Chinese to Japanese and Thai to Korean, there's a dish for everyone (usually way more than one dish!).
Asian appetizers have been a staple for dinner parties across the globe, for decades and we've barely scratched the surface. Read on for some awesome apps that'll impress the crowd! And many of these Asian Appetizers are deceptively easy to make – score!
Asian Appetizers – Wontons
Making wonton from scratch may seem like a daunting project, but really only takes 30 minutes and 2 special ingredients. If you can find wonton or potsticker (gyoza) wrappers and Chinese hot chili sauce, you're golden!
Chinese dumplings, especially Chinese Fried Wontons, are probably one of the most convenient and versatile foods to keep around. A crispy, crunchy, and delicious appetizer that's a real crowd pleaser.
I love making wonton noodle soup with my kids! Gather your guests in the kitchen and have them help you fold the wonton. The key to making wonton is to not overfill the dumpling and to make sure that the wonton is sealed tight.
Asian Appetizers – Dumplings
These Asian appetizers have a wonderful texture and a juicy pork filling. The folding technique is simple enough for you master while watching TV.
Chinese Soup Dumplings, or Xiaolongbao is a MUST TRY at least once! It's a long recipe, the dumpling skin is hand made and the filling requires several hours of chilling. But it's so worth it! These are the real deal. This is an authentic Xiaolongbao recipe from Top Chef star Lee Anne Wong from her new book, Dumplings All Day Wong.
These Potsticker Dumplings are easier to make than you think, and they taste so better than the store-bought ones! Crispy on the outside and juicy in the middle, with an addictive dipping sauce!
Juicy on the inside, crispy and golden brown on the outside, this Gyoza recipe serves up Japanese pan-fried dumplings. A popular weeknight meal as well as a great appetizer for your next party!
Siu mai, the Chinese steamed pork and shrimp dumplings, are one of the most popular items at dim sum parlors. But you don't have to go out just to enjoy them, because they're one of the easiest dumplings to make at home.
Asian Appetizers – Spring Rolls
These Chicken Spring Rolls are light with crisp-crackly skin and small enough to enjoy in 4 bites. The filling is also light, full of tender-crisp vegetables and you should be able to taste and distinguish every single ingredient in the filling. Delicious and authentic!
Authentic vegetable spring rolls recipe from my Chinese mom. The spring rolls are crispy, not greasy and light. This recipe features lots of wrapping tips, including step by step video.
These light and fresh rolls are perfect for summer parties! I very rarely veer off my "tried and true" basic recipe for Vietnamese Nuoc Cham (dipping sauce with lime juice, fish sauce, chili peppers, sugar, water) for Vietnamese Spring Rolls. It's easy, predictable and I can make the sauce just by taste without measuring anything!
This Firecracker Shrimp Recipe is a 3-ingredient recipe with a Mango Ginger Dipping Sauce (ready in 3 minutes). This is a festive way to celebrate Chinese New Year. The shrimp signifies happiness, and the "firecracker" scares away bad luck and bad spirits!
For these Asian Appetizers, you'll learn how to make 4 different Miso Soup recipes. Choose the method that fits your time available! Make miso soup in 1 minute…all the way to the authentic version with homemade dashi and miso paste.
This flavorful Chinese Daikon and Carrot Soup recipe, is very common in Chinese households. This is because the soup is so easy to make, so nutritious, and tastes so good! A delicious soup, made with pork, dried shrimp and veggies!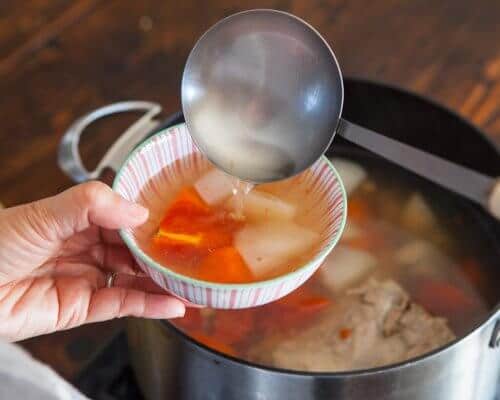 Birds' nests are prized in Chinese culture, so this Bird's Nest Soup is for special occasions when you really want to impress! Follow this recipe for a soup that's fit for royalty.
Asian Appetizers – Skewers
This Chicken Satay is delicious and so easy to make! Perfectly grilled chicken in the most flavorful marinade, served up with the tastiest noodles around and a fresh cucumber salad.
This is a recipe that I've learned from Mom, who has such talent for creating simple, but powerful recipes. Shrimp are marinated with what I call the "Chinese Trinity" – the trio of garlic, ginger and green onion. In addition, I've added minced hot chile pepper from our garden.
Asian Appetizers – Chicken Wings
Momofuku's Octo Vinaigrette is tossed over baked chicken wings for one of the very best chicken wings I've ever laid lips on!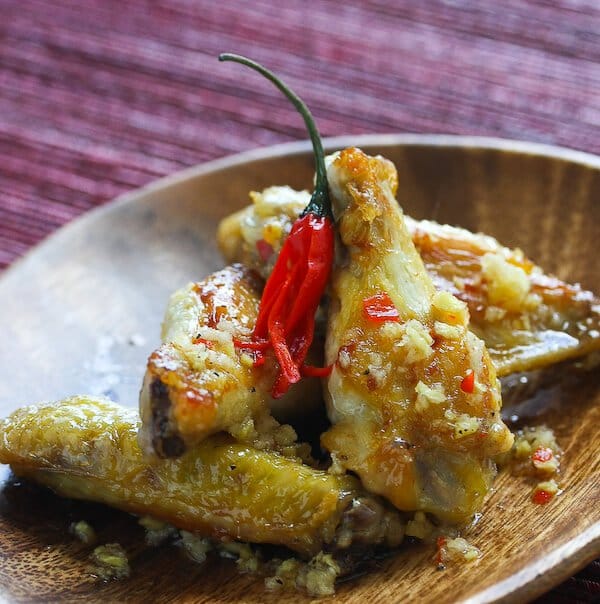 Eating wings is an 8-finger affair (my pointed-up pinkies tend to stay clean as they are too short to get in the way), especially if you serve wings whole like I have in this recipe – so good!
Perfectly grilled chicken wings in an addictive honey and miso sauce!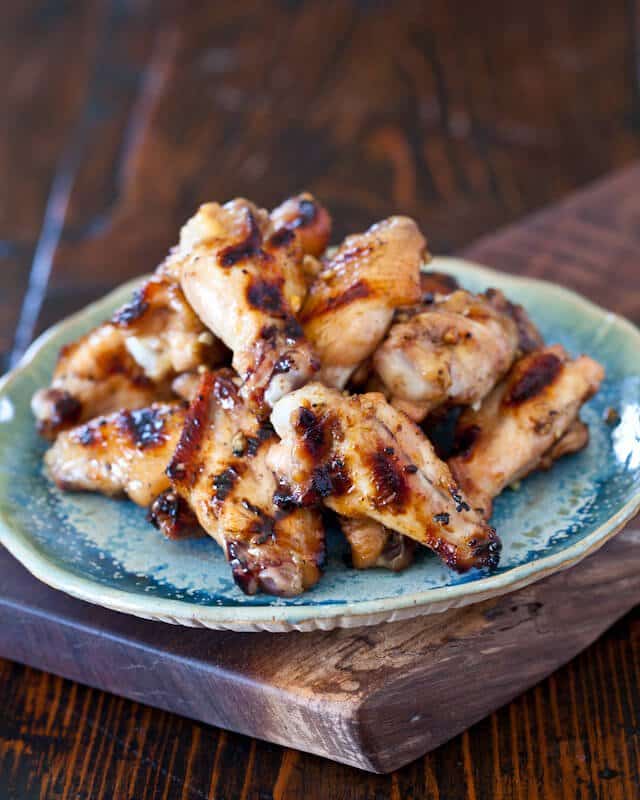 Have you tried any of these Asian Appetizers? Feel free to leave a star rating and I'd love to hear from you in the comments below!