Warmer weather is on the horizon and grilling season is getting into swing! Check out this awesome collection of easy grilling recipes to tickle your tastebuds. Seafood, chicken and meat dishes that are full of flavor and come together easily, they are great for feeding a crowd.
Grilling is such a great way of cooking dishes, it really gets that flavor in. You can cook all of these dishes on the indoor or outdoor grill and there's such a variety here, I'm sure you'll find something you love!
Vegetable Grilling Recipes
A simple, easy and tasty corn side dish, perfect for pairing with grilled meats and seafood.
A quick and easy salad that's oozing flavor!
This simple grilled appetizer is always a hit with guests!
Seafood Grilling Recipes
This Grilled Calamari is grilled on a stick, which in my opinion, is just as good as fried! Sometimes the simplest dishes are the best and this is no exception.
The delicious black pepper sauce really makes the flavors of the shrimp come alive! Perfect for an easy weeknight meal!
This fish is cooked to perfection and the crust is bursting with flavor.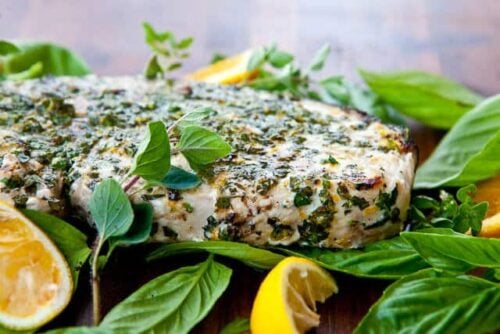 This authentic teriyaki sauce is such a great topping for perfectly grilled salmon
Whole fish stuffed with herbs is a great grilling recipes for entertaining and is full of flavor
Chicken Grilling Recipes
A delicious and easy, sweet and tangy grilled chicken main meal
You are going to love these wonderful umami grilled wings!
Meat Grilling Recipes
Not only does this recipe feature maximum eye appeal for a fat steak, but the method of scoring a steak is one of the easiest ways to get big flavor in little time.
A delicious meat kebab seasoned with Indian spices.
A refreshing and tasty salad, perfect for the hotter weather!
Lean how to grill the perfect ribeye! Full of flavor and so quick to make!
Tips For Successful Grilling
Always pre heat the grill so that the food cooks through evenly.
I know it's a bore, but be sure to always keep you grill clean!
Oil the food and not the grate.
Use a meat thermometer so that you know when the food is cooked through.
Have you tried any of these easy grilling recipes? I would love to hear from you in the comments below!