Here's one for the shrimp lovers! I've delved into my Steamy Kitchen to bring you a feast of shrimp – Asian shrimp recipes to be precise! From appetizers to mains, I have a shrimp recipe for everyone and anyone! Whether you like your shrimp grilled, spicy, in a dumpling, on a skewer fear not, you'll be pleased with these recipes!
Americans do love their decapod crustaceans. Shrimp is, in fact, the most-consumed seafood in the United States. According to the National Fisheries Institute, the average American eats 4.2 pounds of the curvy critters each year.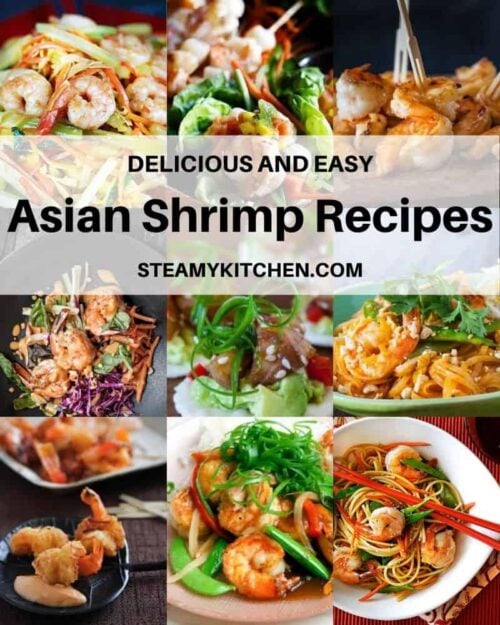 Asian Shrimp Recipes – Appetizers
These shrimp are slathered in an addictive sweet and spicy sauce and charred slightly on the grill, al delivered on a handy skewer. Great for BBQ's.
This Thai Firecracker Shrimp recipe has marinated shrimp wrapped in egg roll wrappers and then fried until golden brown and crispy served with a pad thai sauce for dipping. An awesome appetizer that's so easy to make!
This is a recipe that I've learned from Mom, who has such talent for creating simple, but powerful recipes. Shrimp are marinated with what I call the "Chinese Trinity" – the trio of garlic, ginger and green onion. In addition, I've added minced hot chile pepper from our garden.
Miso Butter Shrimp! simple, delicious shrimp with Japanese flavors. A 15 minute recipe with only 5 ingredients. Serve over rice, pasta or even as an appetizer.
The shrimp is breaded with a mixture of Japanese breadcrumbs, called Panko and sweet coconut flakes. A totally easy recipe that is even better than the overly battered Coconut Shrimp appetizers found at many restaurants. Cheaper too!
A light, fresh and zesty shrimp recipe, served up in lettuce cups – it's an awesome appetizer for summer parties.
One of the nice things about this recipe, other than the fact that the shrimp are incredibly delicious, is that you can easily prepare them almost entirely ahead of time and do the final frying at the last minute. The recipe can be doubled or tripled, which is a good thing since they seem to disappear rapidly. If you prefer, use Sweet and Sour Sauce instead of the dipping sauce recipe given here.
Xiao Long Bao is one of the most famous Chinese steamed dumplings. Inside the dumpling are little pockets of gelatinized broth made from chicken, pork and cured ham, with succulent shrimp!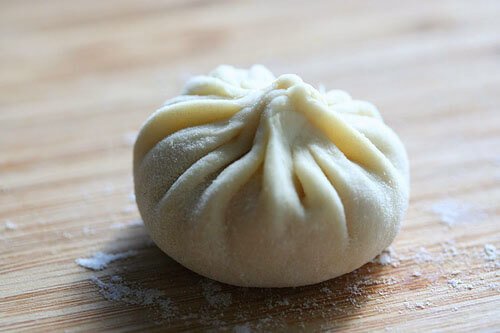 This easy Asian Shrimp recipe is the perfect finger-food for avocado lovers! Quick to assemble and such a flavorful bite, with a wasabi kick!
Asian Shrimp Recipe – Soups
Warm, rich broth with silky-juicy chicken. Slippery fresh rice noodles and snappy shrimp. Hearty and delicious!
Like nearly all of my recipes, this meal is fast 'n flexible, especially when you use rice noodles, which take a quick soak and 30 second boil. Dried rice noodles are soaked in cool or warm water for a few minutes to soften and rehydrate a bit. Then a swirl in your boiling broth and it's done.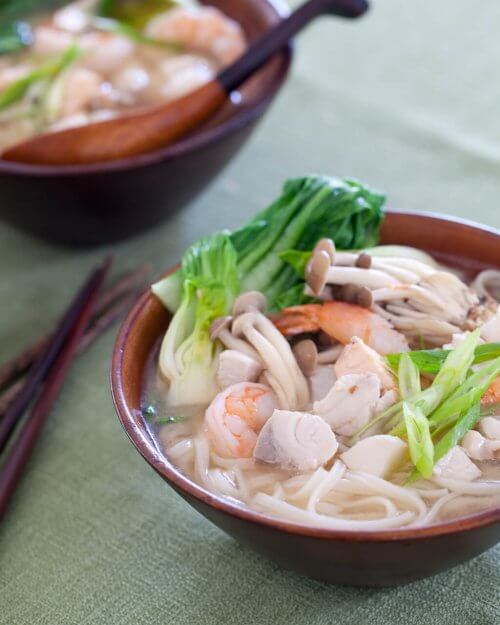 Creamy grits, mixed with crispy bacon and succulent shrimp, flavored with garlic and perfectly seasoned – add some hot sauce for an extra kick!
Asian Shrimp Recipes – Main Dishes
This easy Pad Thai recipe takes 10 mins to prep and 8 mins to cook – it's so simple and so tasty! Silky noodles, slathered in a delicious sauce – what's not to love!
This 15 minute Chinese Shrimp Stir Fry recipe will teach you authentic stir-fry method. It's quick easy and delicious! Succulent shrimp, slathered in a delicious soy, ginger and garlic sauce. This Asian shrimp stir fry recipe is one of my mom's, and it's one of the very first recipes she taught me how to cook.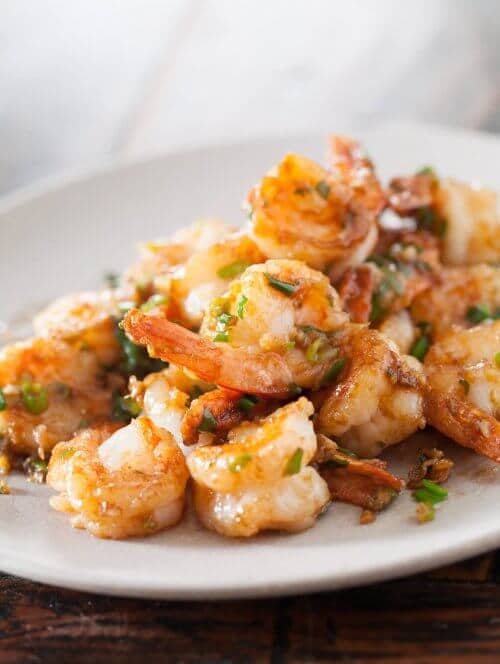 Not only does the recipe take only 20 minutes to make (the rice takes 20 minutes, the curry really only takes 7 minutes), but the spice level is mild, perfect for kids too. The curry flavor comes from yellow curry powder and ground green cardamom, so it's warming and comforting. Of course, you can add more chile sauce if you wish!
You can use any type of noodles for this dish – rice noodles (great for gluten-free), wheat noodles or in a pinch, use regular spaghetti noodles for the Fried Noodles with Garlic Shrimp dish. Easy and delicious!
This Pad Thai Salad recipe features a healthy salad, fit as a main course. Succulent shrimp, coated in an addictive spicy, nutty salad dressing.
This Shrimp Teriyaki Stir Fry is quick and delicious! Shrimp cooked in teriyaki sauce is tender and has that wonderful mixture of salty and sweet flavors. This makes the perfect Asian dinner in minutes.
This Asian Shrimp recipe pairs up garlic soy shrimp with spaghetti noodles and it works so well!
Asian Shrimp Recipes – Side Dishes
This is such a fun recipe! Great for dinner parties, plus shrimp and pineapple…a match made in heaven!
A super popular Asian dish! Egg, peas, rice and shrimp, what's not to love!
Top Tips For Cooking With Shrimp
Buy shrimp that's already been peeled and deveined – it makes it so much easier to prep. Up to you if you want the tail on – but it makes for a prettier presentation!
There's nothing wrong with buying "fresh" or frozen shrimp! Most shrimp has been frozen previously even if it's being sold thawed. Either works great. Just be sure that when you're cooking frozen shrimp, you let it really thaw out before putting it over any heat.
If you're thinking ahead, you can take shrimp out of the freezer and transfer it to the fridge and let it thaw overnight.
If you need the shrimp faster, take it out of the freeze and let it thaw in a bowl of cold water on the counter. WARM WATER will mess with their texture so make sure it's cold!
Regardless of which way you use to defrost, once they are thawed, lay them out on a paper towel to dry them off and then get cooking.
Undercooked shrimp are a wide and flexible "U" shape, overcooked shrimp are an"O" shape and completely curls up on itself in a tight O, and perfectly cooked shrimp are a "C" in shape and ready to eat!
Have you tried any of these Asian Shrimp recipes? I'd love to hear from you in the comments below!